Arsal urges Lebanon army to secure border with Syria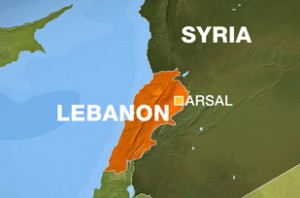 Arsal residents called on the Lebanese army and security forces to secure the border with Syria and the international highway leading to their town.
"We call on the Lebanese Army, which is responsible for preserving Lebanese security and sovereignty, to secure the border," Arsal residents said in a statement on Thursday.
"We call on the security forces to police the international highway leading to the town and to protect it from gangs of thieves [claiming to provide local security]." The statement added
The statement also condemned all recent attacks in the Beqaa and called for the perpetrators to be brought to justice.
"[We condemn all] terrorist crimes that have occurred and taken innocent lives in all parts of Lebanon's Beqaa [Valley], no matter which party [they belong to]."
"everyone implicated in these crimes should face justice."
The residents of Arsal on accused earlier in the month Hezbollah of carrying out the rocket attack that targeted their eastern Beqaa town earlier on January 18 and resulted in killing nine civilians, seven of them children and injuring 14 others.
"Hezbollah has finally done it and we were not surprised by this because this is Hezbollah'sreality," Arsal locals said in a statement issued on January 18 adding : "We are against killing civilians, we are against the acts of the Syrian regime and we are against Hezbollah and their methods of killing innocent civilians."