Berri postpones parliament session to March 4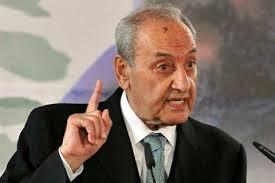 As was expected Speaker Nabih Berri failed in his efforts to hold a parliamentary session on Tuesday due to lack of quorum and postponed it to March 4 .
A number of parliamentary blocs, including the Lebanese Forces, the Future Movement, the FPM and independent Christian MPs have repeatedly boycotted the parliament session over a dispute with the speaker over its agenda, which included 52 articles stressing that the house, in its extended term, should only deal with urgent legislation.
Berri is insisting on keeping the 52 articles on the agenda intact and had previously vowed to continue to call on MPs to a General Assembly meeting until the agenda is discussed.
Caretaker Premier Najib Mikati and several blocs argue that the parliament cannot convene under a resigned government and accuse him of trying to undermine the role of the cabinet.