Kerry: Assad can no longer hold Syria hostage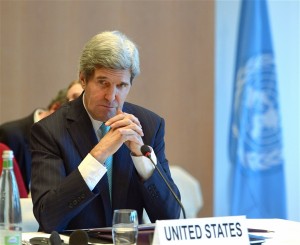 Syrian President Bashar Assad's brutality has robbed him of the legitimacy to rule his country, Secretary of State John Kerry said at the beginning of the first face-to-face peace talks between the Syrian government and opposition on Wednesday.
"We really need to deal with reality," Kerry said at the Geneva II talks, in Montreux, Switzerland, according to a report by The Associated Press. "There is no way — no way possible in the imagination — that the man who has led the brutal response to his own people could regain the legitimacy to govern.
"One man, and those who have supported him, can no longer hold an entire nation and a region hostage."
The talks have brought together the Syrian regime and the the Syrian National Coalition, a Western-backed group opposed to Assad.
The meeting aims to reach a solution to the bloodshed in Syria that has claimed the lives of more than 100,000 people since 2011.
Saudi Arabia, which backs the largely Sunni-led Syrian opposition, said at the talks that there could be no role in Syria's transition for Assad and others whose hands were "stained in blood," Reuters reported.
Kerry was followed by Syrian Foreign Minister Walid al-Moallem, who refused to leave the podium despite repeated requests from the U.N. secretary-general.
"You live in New York. I live in Syria," he angrily told Ban Ki-moon, according to the AP. "I have the right to give the Syrian version here in this forum. After three years of suffering, this is my right."
Al-Moallem said no one except Syrians could remove Assad. According to the AP, he also accused the West and neighboring countries of funneling money, weapons and foreign fighters to the rebellion.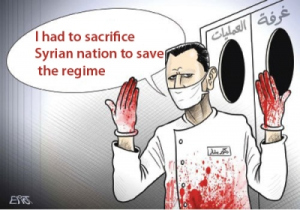 "The West claims to fight terrorism publicly while they feed it secretly," he said. "Syrians here in this hall participated in all what has happened, they implemented, facilitated the bloodshed and all at the expense of the Syrian people they claim to represent."
Before the talks began, Syria's Information Minister Omran-al-Zoubi told NBC News that there was "no civil war in Syria."
Then, apparently referring to documents disclosed on Monday that purport to show evidence of large scale killing of detainees in Syria, Zoubi said those images aren't from Syria at all but instead were taken elsewhere around the Arab world.
NBC