Syrian opposition under pressure to decide on peace talks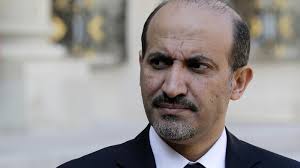 Syria's opposition gathered in Istanbul on Friday to vote on whether to attend peace talks next week with President Bashar al-Assad's government, under heavy pressure from Western backers to endorse negotiations.
With just five days to go, the opposition National Coalition remains divided over whether to show up to the talks in Switzerland, which they insist must implement an international accord to set up a new ruling body in Syria.
Syrian officials have pledged to attend the January 22 talks, though they dispute the invitation letter's focus on setting up a transitional authority, saying the priority is "to continue to fight terrorism" – a phrase they use to describe Assad's battle with increasingly radical rebels.
Around a third of the opposition Coalition have threatened not to support the peace talks, which will start in Montreux before moving to Geneva, prompting the Coalition leadership to try to lower the bar for endorsement.
Instead of seeking a two-thirds majority vote of the 120 members, senior Coalition member Anas al-Abdah told Reuters they might resort to a simple majority of those present.
"The outcome is finely balanced, but I expect a Yes vote," said a Western diplomat following the talks, adding that the United States, Britain and other Western backers had told the Coalition that a No vote would have unwelcome consequences.
"We haven't used the language of threats," he said. "But we have made clear the decision on Geneva is a big one and it will be difficult to deliver on military and political strategy if they don't go."
REBELS OPPOSE PEACE TALKS
The Coalition, based in Turkey, has little influence on the ground in Syria, where most rebels oppose the peace talks, and its military arm, the Supreme Military Council (SMC), has been eclipsed by Islamist rebels and al Qaeda-linked fighters.
Coalition opponents of the peace talks argue that to sit down with Assad's officials without any concessions from Damascus would further alienate the political opposition in exile from the rebels on the ground.
Describing discussions with rebels on the ground, Jalal al-Deen al-Khanji, a Coalition representative from the city of Aleppo, said: "They reject Geneva under these conditions. Of course all of us ask for a political solution, but not on these conditions."
Jamal al-Ward, head of the Supreme Military Council's military office, said the members who opposed Geneva talks were the grassroots activists and rebels on the ground: "Any decision on Geneva or even anything decided at Geneva would mean nothing without them," he told Reuters.
"In these conditions we would be bringing legitimacy to Assad and breaking his isolation. We are giving the regime the biggest platform to tell the world that it is fighting terrorism when it helped create the problem."
But Monzer Akbik, chief of staff to the Coalition's president, said an opposition boycott of Geneva would play into the hands of the Syrian government: "The regime would love it if we don't go," he said.
CEASEFIRE OFFER
Syria's Foreign Minister Walid al-Moualem, who will lead the government's delegation to Switzerland, said on Friday he had handed Russia plans for a ceasefire with rebel forces in Aleppo, Syria's biggest city.
The move came after the United States and Russia said this week they discussed pressing Assad's forces and the rebels to agree local ceasefires and allow humanitarian access to besieged areas where malnutrition is an increasing threat.
The Western diplomat said the talks in Geneva would aim to agree on ceasefires, humanitarian access and also a release of detainees to show all sides that the peace talks could deliver short term benefits.
"There will be an attempt, without losing focus on transition, to start work in these areas," he said.
Jamal Maarouf, leader of the Syrian Revolutionaries Front which has previously expressed its backing for the Coalition's Supreme Military Command, had come out in support of the Geneva talks, the diplomat said.
But a powerful group among the rebels, the Islamic Front, has said it would consider a traitor anyone who attended talks which did not bring about Assad's downfall.
That prospect appears increasingly distant after Assad, backed by Iran, Hezbollah and Iraqi Shi'ite fighters, consolidated his control around Damascus and central Syria.
Rebel infighting, including fierce battles this month between the al Qaeda-linked Islamic State in Iraq and the Levant and other Islamist and more moderate fighters, has also stalled the military campaign against Assad.
The coalition vote on Geneva was initially scheduled to take place 10 days ago but had to be postponed when around 40 members walked out threatening to resign.
Friday's meeting comes after the National Coordination Body of mainly Damascus-based opposition figures tolerated by Syrian authorities said it would not attend the talks, accusing foreign powers of leaving the opposition too weak to negotiate.
Reuters