Lebanon PM urges creation of camps in Syria for refugees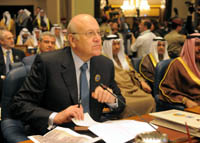 Caretaker Premier Najib Mikati reiterated at the international fundraising conference in Kuwait on Wednesday his call on the international community to set up camps inside Syrian territories to host the refugees after they posed a huge burden on Lebanon.
"The international community should take seriously the idea of establishing safe camps inside Syria," Mikati said .
Lebanon, overwhelmed by a surge of Syrian refugees fleeing the fighting in border towns and other Syrian areas, has refused to establish refugee camps for Syrians seeking shelter from the war that has killed more than 130,000 people and displaced millions.
He also reiterated that the war in Syria had severe repercussions on the Lebanese economy and security , leading to a drop in investments and a paralysis in trade and tourism and increase in violence.
He said studies conducted between 2012 and 2014 showed that Lebanon's GDP shrunk by $7.5 billion, while the cost on the treasury was estimated at $5.1 billion including $3.6 billion in expenses directly used to provide services for the Syrian refugees. The treasury revenues also dropped by $1.5 billion due to the decline in economic growth.
Mikati warned that unemployment in Lebanon doubled, reaching 20 percent mainly in poor areas.
Lebanon is in desperate need for humanitarian assistance to the refugees and assistance to the economy, he said.
Its urgent needs for 2014 to avoid a further deterioration in services go beyond 800 million dollars, Mikati added.
He thanked Kuwait and all the donor countries, hoping their efforts would lead to a political solution to end Syria's crisis.
Kuwait Emir Sheikh Sabah al-Ahmed al-Sabah opened the conference with a pledge of $500 million towards an unprecedented $6.5 billion appeal by the United Nations to aid millions of Syrians.
Addressing Arabs and the international community at the end of his speech, Mikati said: "Don't forget Lebanon …. Preserve Lebanon."
Following the conference, Mikati held separate meetings with Kuwait's Emir, U.N. chief Ban Ki-moon and U.S. Secretary of State John Kerry.
Kerry said upon his meeting with the caretaker PM that his country would help Lebanon with additional funds of $76 million for the Syrian refugees.
"In addition to that, we will continue to work very directly with the Lebanese armed forces and their ability to be able to stand up against the sectarian violence that is ripping apart Lebanon yet again," Kerry added.
Referring to Hezbollah which Washington designates as a terrorist organization, Kerry said the Lebanese government "needs to not provide an opportunity for legitimization of any terrorist organization or violence within Lebanon."
"We know it's very difficult, nothing is easy there," Kerry added.
Thousands of Hezbollah members joined the forces loyal to president Bashar al Assad in his fight against the rebels who are trying to topple his regime. The rebels accused Hezbollah of invading syria and vowed to bring the war to Lebanon. This has increased the level of violence in the country in the recent months as several Hezbollah strongholds were the target of bomb attacks.