Pro-Syrian daily leaks details on cabinet formation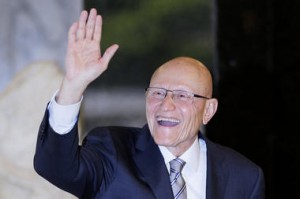 Al Safir Daily Newspaper which is closely allied with the Syrian regime and Hezbollah Leaked the following preliminary details of the upcoming Lebanese cabinet makeup . The details include names of the ministers, religious and political affiliation:
March 8 : allocated eight seats as follows

Four Shiites seats 2 for Hezbollah and 2 for Amal :Ali Hassan Khalil , Hussein Hajj Hassan , Mohammed Fneish and Adnan Mansour
Four seats FPM MP Michel Aoun and his allies:
Maronites : Gebran Bassil ( FPM) and Yousef Saadeh ( Marada )
Catholic : Nicolas Sehnaoui
Armenian: Hagop Pakradounian ( or whoever Tashnaq party nominates
The centrist bloc ( President Michel Suleiman, PM Designate Tammam Salam and MP Walid Jumblatt) allocated 8 seats as follows

President Suleiman
Shiite: Abdul Hinnawi (was named by Hezbollah and Berri)
Orthodox: Samir Mokbel
Maronites: Marwan Charbel( for interior ) and Khalil Hrawi for defense
Note: If the president will be allocated the ministry of foreign affairs he may name ambassador Naji Abi Assi for the post.
Note 2 : Initially Hezbollah and Berri wanted Dr. Saud Mawla as the Shiite minister in the centrist bloc but they changed their mind when they discovered that he was liked by the Gulf countries .
PM designate : Tammam Salam
Sunnis: Tammam Salam and Muhammad Mashnouq.
Progressive Socialist Party of Walid Jumblatt
Druze : Two seats Wael Abu Faour and Rami Al-Rayes .
March 14 allocated eight seats as follows

Orthodox: One seat allocated for the Lebanese Forces and one for Future movement ( Atef Majdalani)
Maronites: One seat allocated for the phalange party : Sassine Sassine
Catholics :One seat allocated for Future Movement : Michel Pharaon
Sunnis: Three seats allocated for Future Movement: Mohammed Shakir ( or Adnan Kassar ) , Ashraf Rifi ( or Samir Jisr ) and Ziad al-Qadiri
Minorities: One seat ( unnamed )