Tunisian government to step down ahead of elections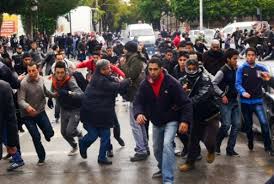 Approaching the third anniversary of the overthrow of a despotic leader, Tunisia has moved a step closer to holding its first presidential elections since the uprising that triggered the regional revolts known collectively as the Arab Spring. However, the process has been overshadowed by unrest.
Tunisia's Constitutional Assembly has formed a commission that will oversee the balloting, paving the way for the Islamist-led Cabinet and Prime Minister Ali Larayedh to step down. The prime minister said that move could come as early as Thursday, in line with an earlier agreement between the Ennahda party, which holds a parliamentary majority, and secular opposition parties.
The timing of the resignations is meant to track with next week's anniversary of the 2011 ouster of former president Zine al Abidine ben Ali. By Tuesday, a new draft constitution is to have been voted on and an election date set.
However, strikes and demonstrations have broken out against the financial policies of the country's transitional administration, headed by Ennahda. Days after parliament began voting on Tunisia's first post-uprising constitution, what began as peaceful marches in two western towns turned into confrontations with police. This week's unrest has been centered in the towns of Thala and Kasserine, in the less developed interior region of western Tunisia.
According to the Tunisian state-run news agency TAP, two police officers were injured during protests that came in response to a recently announced hike in vehicular taxes. Thala's police station was stormed by demonstrators who set one security vehicle ablaze. Another police headquarters was ransacked and torched in the town of El Guettar in the impoverished central region.
Marches protesting the marginalization of Tunisia's inner governorates coincided with calls for strikes by the Tunisian General Labor Union, or UGTT, and the Regional Labor Union, or URT, in four governorates. The UGTT on Wednesday said it rejected the proposed 2014 budget as hastily drafted and not responsive to public needs.
Meanwhile, another influential group called a strike of its own. The Assn. of Tunisian Magistrates is protesting what it calls undue Cabinet interference in judicial posts and a constitutional article it describes as threatening judicial independence. Judges began a three-day strike set to conclude on Thursday.
Doctors have gone on strike as well, upset over a proposed measure obliging medical school graduates to serve at public hospitals in the interior region for three years.
The Health Ministry proposed reducing that obligation to one year, but the finance minister, Elyes Fakhfakh, told a news conference on Wednesday that cutting the doctors' service obligations may pose too great a burden for the state.
LA Times