Turkey fires 350 police officers amid corruption scandal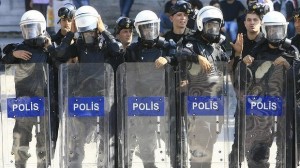 The Turkish government fired 350 police officers in Ankara, including heads of major departments, amid a vast corruption scandal that has ensnared key allies of Prime Minister Recep Tayyip Erdogan.
The officers were fired by a government decree published at midnight and included chiefs of the financial crimes, anti-smuggling, cyber crime and organized crime units, the private Dogan News Agency reported on Tuesday.
The decree also appointed replacements for 250 of the sacked officers, it said.
The move comes as the government is trying to contain the high-level corruption investigation that poses the biggest threat to Mr Erdogan's 11-year rule.
The inquiry is believed to be linked to simmering tensions between Mr Erdogan's government and followers of influential Muslim scholar Fethullah Gulen, who lives in exile in the United States.
Gulen followers hold key positions in various government branches including the police and judiciary.
Mr Erdogan has denounced the investigation as a foreign-hatched plot to bring down his government and has responded by sacking dozens of police chiefs across the country since the probe first burst into the open in mid-December.
SMH