Al-Qaeda's ISIL claims responsibility for Beirut Bombing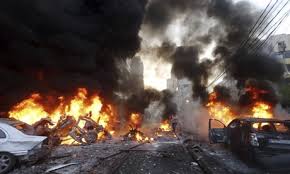 The Al-Qaeda-affiliated Islamic State of Iraq and the Levant (ISIL) on Saturday claimed credit for a deadly bombing in the Beirut stronghold of the "criminal" Shiite militant group Hezbollah.
ISIL said in a statement posted online that it had penetrated the "security system of the Party of Satan (Hezbollah)… and crush its strongholds… in a first small payment from the heavy account that is awaiting those wicked criminals".
Thursday's suicide car bomb in the Haret Hreik district of Hezbollah stronghold of Al Dhahieh , a souther suburb of the Lebanese capital Beirut killed four people and wounded 77.
It was the latest strike against the powerful party, whose fighters are aiding Syrian President Bashar al-Assad in a civil war that pits him largely against Sunni Muslims, including ISIL.
The army said Saturday that a young man from northern Lebanon was the bomber who blew himself up.
"The DNA test results on the remains of a suicide attacker found in the car used in the bomb attack… confirm they belong to the youth Qutaiba al-Satem," said the army.
"Investigations are ongoing by the relevant judicial authorities to uncover the full details of the event," it added.
An official from Satem's native Sunni-majority area of Wadi Khaled told AFP on Friday suspicions over the 20-year-old's role were based on a ID found at the scene of the blast.
The tribes of Wadi Khaled disputed the charges and said Satem "does not belong to any political or religious party, is an engineering student, who loved music and intended to travel to France in order to continue his studies."
They claimed he was kidnapped by Hezbollah on December 30 at a checkpoint.
They also claimed that he does not have a driver's license, does not know how to drive and is not familiar with Dhahieh area .
They also questioned the accusation against their son. If our son was a real terrorist would he carry with him his real ID ?
They called on the security services to conduct a "fair and transparent" investigation.
Meanwhile in Syria A newly formed Syrian Islamist rebel alliance has declared war on the powerful al-Qaeda-affiliated Islamic State of Iraq and the Levant (ISIL) and joined other opposition groups in battling the extremists. For its part, Syria's main opposition National Coalition says it backs the rebel fight against al-Qaeda.
"We, the Army of the Mujahideen, pledge to defend ourselves and our honor, wealth and lands, and to fight ISIL, which has violated the rule of God, until it announces its dissolution," said the new alliance of eight groups, in a statement published on Facebook Friday.
Ahram/ Agencies