French president regrets "joke" on Algerian security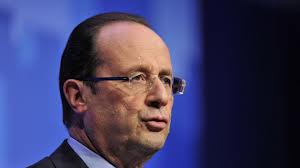 President Francois Hollande expressed regret on Sunday that a quip he made about poor security in Algeria had caused an outcry in the former French colony, as opponents accused him of a diplomatic blunder.
Hollande was attending an anniversary dinner for the CRIF Jewish organization on December 16 when he made a remark to the audience about his interior minister having returned safely to France from a trip to Algeria.
"He's back safe and sound, and that's saying a lot," Hollande said.
The remark spread on social networks, causing an outcry in Algeria where daily El Watan denounced it as a "joke in bad taste" with "pathetic insinuations" on Sunday. Another newspaper carried the headline "Indignant Algiers".
Algerian Foreign Minister Ramtane Lamamra said the remark did not reflect the security situation in his country and he hoped a page could be turned quickly on an "unfortunate incident", Algeria's APS news agency reported.
"On an issue as important as France's relationship with Algeria, the office of the president does not permit this sort of off-color remark," Jean-Francois Cope, head of France's UMP opposition party, wrote in a Twitter message.
Hollande – whose achievements in foreign policy are a rare bright spot in a presidency mired in economic struggles – stopped short of issuing a full public apology.
"He expresses sincere regret for the interpretation that was made of these remarks, and will say as much directly to (Algerian) President (Abdelaziz) Bouteflika," his office said in a statement.
Relations between France and Algeria remain fraught 51 years after the ex-colony won its independence. Millions of descendants of Algerian immigrants live in France.
French security forces cooperate with the Algerian military in the fight against al Qaeda's north African wing.
Reuters