Over 650 Hezbollah fighters killed in Syria, Al-Qabas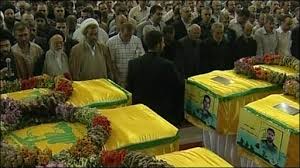 General Qassem Soleimani, commander of the Qods Force division of the Iranian Revolutionary Guard , is the one who runs military operations in all of Lebanon , Syria and Yemen , Kuwaiti" Al-Qabas "newspaper quoted its Gulf intelligence sources as saying in a report published on Thursday.
"Soleimani is the most powerful man in Iran , and the superiority of his authority is above anyone else in the pyramid of power ", the sources added.
The Qods Force of the Iranian Revolutionary Guard is in charge of all special operations outside Iran, according to intelligence sources.
The same sources said that Soleimani touch is clear in setting up training camps where these volunteers receive training in the use of weapons , explosives and fighting street wars.
Al-Qabas added that its sources said that "Hezbollah branches in Lebanon , Syria, Iraq and the Arabian Gulf , receive instructions from Soleimani directly , and the latest of which was the firing of rockets in the Ouja triangle on the Iraqi-Saudi Arabian border, and the party that was responsible for this was Hezbollah of Iraq ".
The paper also revealed that Soleimani directly supervises the training of the Iranian " Qods Force" and the Iraqi " Abou El Fadl Abbas Brigade" which is fighting in Syria under the guise of protecting Sayyida Zeinab shrine near Damascus .
Al-Qabas sources also confirmed that the number of Hezbollah fighters that have so far been killed in Syria exceeds 650 .
Lebanon's Hezbollah was set up in 1982 as a division of the Qods Force.