Hezbollah preparing for internal confrontation, report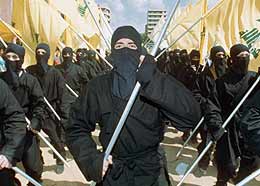 Hezbollah has given orders for the "general mobilization" of its fighters in Lebanon and the reactivation of the Resistance Brigades, a paramilitary group loyal to the Shiite party, NOW quoted Kuwaiti daily As-Seyassah as reporting onThursday.
"Hezbollah's decision to announce the general mobilization is an indication that it is preparing a certain plan that it would implement inside Lebanon, and also probably along the Syrian-Lebanese border," the As-Seyassah quoted sources as saying.
"The party took the decision recently without making it public, following the attacks which have targeted it as a result of its participation in the Syrian war," the As-Seyassah sources also said.
While pointing out that Hezbollah had only once previously announced the general mobilization of its fighters, in 1996 during the Israeli military operation of "Grapes of Wrath," the sources added that the Shiite group "was not discounting the possibility of an all-out battle in Arsal, as the upcoming battle in Yabroud in Syria could lead to the transfer of thousands of Jihadi fighters to Arsal [in North Lebanon]."
The report also voiced concern of a possible "snowball" effect, whereby Lebanese and Palestinian groups in North and South Lebanon, as well as Beirut, would move against Hezbollah in the context of a wider Sunni-Shiite confrontation.
"That is why [Hezbollah] ordered the reactivation of the work of the Resistance Brigades, so it can be available in any potential internal confrontation."
"The [Shiite] party is on the verge of declaring war on any Lebanese group connected to the Jihadi groups in Syria," the sources added.
After Hezbollah chief Sayyed Hassan Nasrallah warned that groups in Qalamoun have been dispatching explosive-laden cars to Lebanon, a car bomb detonated near a Hezbollah position outside the town of Labwe, in the Beqaa Valley, in the early hours of Tuesday morning.
The bomb detonated after a checkpoint manned by Hezbollah members intercepted the car, before opening fire on it, Lebanon's state National News Agency reported.
The blast occurred to the east of Syria's Qalamoun border region, where Bashar al-Assad regime forces and Hezbollah fighters have battled Syrian rebels since mid-November.
Shiite-populated areas across Lebanon have been the target of terror attacks since Hezbollah declared it was fighting on the side of the Syrian regime in May.
Three car bomb attacks have targeted southern Beirut in recent months, while a number of IED attacks have occurred in Lebanon's Beqaa Valley.
NOW/As-Seyassah