2 rockets fired from Syria hit Hermel Lebanon, updates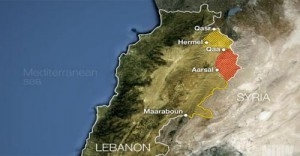 Two Rockets were fired from Syria and hit the north eastern Beqaa town of Hermel on Tuesday afternoon, local media reported.
One of the rockets fired into the town hit an army post, lightly injuring two soldiers, Al-Jadeed ( New) television reported.
The other rocket hit the center of the town lightly injuring one person and causing material damage
Hermel and other Shiite-populated areas of the Beqaa have been subjected to rocket attacks from Syria since the spring of 2013 after the Iranian-backed Hezbollah Shiite group decided to fight alongside Assad's soldiers against the mostly Sunni rebels trying to topple him. The rebels accused Hezbollah of invading Syria and vowed to move the war to Lebanon.
Update: The number of rockets that hit Hermel was 6 according to an army statement
Update: The Marwan Hadid Brigades and the al Nusra have claimed responsibility for the rocket attack on Hermel. They also claimed responsibility for the explosion that took place near a Hezbollah center at dawn on Tuesday