Abbas voices reservations over Kerry's security plan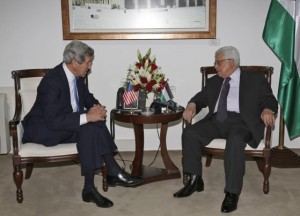 Palestinian President Mahmoud Abbas informed U.S. Secretary of State John Kerry his reservations on the latter's security plan for a future solution with Israel, a Palestinian official said Thursday.
The official, speaking on the condition of anonymity, said that Abbas and Kerry met in the West Bank city of Ramallah as Kerry is back to the region for the second time this month in order to push for a framework agreement between Israel and the Palestinians.
Abbas reiterated to Kerry the Palestinian commitment to completing the negotiations' term, which ends in the spring.
For his part, Kerry stressed that the two sides should reach the framework agreement so their negotiations, which resumed in July, could become more serious, according to the official.
Kerry, who is scheduled to meet Israeli Prime Minister Benjamin Netanyahu on Friday, is likely to return to Ramallah and meet with Abbas again.
Several Palestinian officials have voiced rejection to Kerry's security plan, saying it neglects the Palestinian demand that Israel maintain no security presence on the borders of the future Palestinian state.
Earlier Thursday, sources said that Abbas is facing pressure from Arab leaders to accept Kerry's plan.
Xinhua