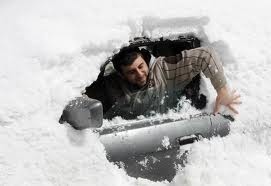 Two people have died and 14 others were injured due to the snow storm, also known as "Alexa", which is passing through Lebanon.
"Two people have been killed so far due to the 'Alexa' storm in the southern city of Sidon and a family who was trapped in the snow in Akkar was evacuated," Red Cross Secretary General George Kettaneh said on Wednesday.
Kettaneh also said earlier in the day that nine car accidents took place on the northern coastal line which left 14 people injured.
Meanwhile, the National News Agency reported that the heights as far as the Aley area and Metn districts are witnessing heavy snowfall.
There is also a steep decrease in temperature in these regions which has reached zero degrees Celsius ( 32 def F)and below.
Snow also began to fall heavily at 8:30 p.m. on Wednesday night in different areas of Akkar's Al-Doniyeh, where the altitude is 500 meters and above.
A winter storm began Wednesday in Lebanon with snow blanketing the Beqaa and mountain areas as frigid temperatures settled over the country, while harsher weather is expected in the coming days.
The Mdeirej-Dahr al-Baidar-Chtaura road which links Beirut with Damascus has been cut off by ice.
Strong wind pushed two ships docked at the Tripoli Port towards the shore, which damaged a cafe owned by Haitham Kharouta.
Lebanese University chief Adnan Sayyed Hussein said classes will continue as scheduled tomorrow at all Lebanese University faculties.
NOW
This error message is only visible to WordPress admins
Error: No connected account.
Please go to the Instagram Feed settings page to connect an account.