11 killed in mortar bomb attack in Aleppo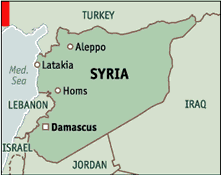 Eleven people were killed on Monday in mortar fire on a regime-held district of Syria's northern city of Aleppo, state media reported.
"Eleven killed and 20 others injured in a terrorist mortar attack on Jamilia district," the news agency SANA reported, citing a police source in the city.
The Syrian Observatory for Human Rights also said that 11 people were killed in the attack, saying rebel fighters had fired the mortar rounds.
Observatory director Rami Abdel Rahman said the dead were civilians, and included three children.
He said the number of fatalities could rise as several of the wounded were in critical condition.
Jamilia lies in just west of central Aleppo, which is divided between rebel and regime control.
Fighting began in Syria's second city in mid-2012, with rebels forces capturing large swathes of the east, but the regime maintaining control of much of the west of the city.
Once a key economic hub for the country, much of Aleppo has been reduced to ruins by more than 18 months of fighting.
Ahram.org