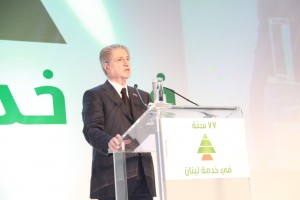 Former Lebanese  president and current Phalange party  leader Amin Gemayel slammed Hezbollah's role in Syria's civil war and for serving  foreign regimes  at Lebanon's expense and called for developing a system based on 'the nation' and not 'the sects' in Lebanon.
During a speech   at Biel  marking the    77th  anniversary of his party's   establishment, Gemayel said: "Through its latest stances in Lebanon and Syria, Hezbollah put itself in front of dangers that neither it nor Lebanon can bear the consequences."
Referring to the Baabda Declaration and the dialogue talks   he said: "We have reached an understanding at the National Dialogue to use Hezbollah's arms in of the  state as part of a defense strategy led by the army and not to support the   foreign regimes  at the expense of  Lebanon  ," he said in reference to Hezbollah's military involvement in the increasingly sectarian Syrian  civil war and its allegiance to Iran.
Hezbollah's arsenal "should not be in the service of foreign regimes as part of a regional strategy," he added.
Gemayel also said that the "level of sectarianism and hegemony is high in our political life."
"This is the real threat that should be resolved before it is too late," he said, adding that " the formula in  Lebanon  should be 'the people, the Army and the martyrs'."
Hezbollah on the other hand insists that the formula should be the people, the Army and the Resistance.
He rejected "taking a unilateral decision in deciding the fate of the Lebanese."
"We are the party of the martyrs and not the party of arms. Don't get the address wrong," Gemayel said.
"We are not terrorized by statements," he said, adding "we don't look for arms but we resist all weapons."
"It is still possible for the state to rise but statelets are rejected," he said in reference to Hezbollah.
As the party    celebrated   the 77th  anniversary of its    establishment  it also  remembered its martyrs, mainly former Industry Minister Pierre Gemayel.
Pierre, son of the Phalange party leader , was shot in broad daylight on November 21, 2006 as he was driving his car in the North Metn town of Jdeideh. His bodyguard was also killed.
"The martyr lives forever and doesn't die," his brother MP Sami Gemayel said earlier when he took to the podium along with Pierre's two sons.
"The more you try to kill the Phalange," the more the supporters of the party will expand, the lawmaker said.
"We still believe in Lebanon despite desperation … and the paralysis of institutions,"  The Phalange party leader said. "Our belief in Lebanon is stronger than all challenges."
He called for partnership among the Lebanese – Christians and Muslims – to resolve its crises and for coming up with  initiatives to end the shattered state of the country.
The Phalange Party was formed in 1936 as a Maronite paramilitary youth organization turning later into a political party that played a major role in the Lebanese Civil War.