44 dead in Syria regime raids on Aleppo province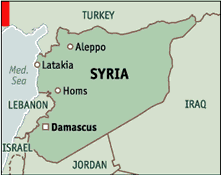 At least 44 people were killed in Syria's northern province of Aleppo on Saturday as rebels also captured a key oilfield in the east of the country, a monitoring group said.
State television, meanwhile, reported that the national reconciliation minister avoided an assassination attempt, after gunmen opened fire on his car while he was not inside.
The Syrian Observatory for Human Rights reported at least 29 deaths in several regime air strikes in northern Aleppo. The group, which relies on activists, lawyers and doctors on the ground in Syria for its information, said at least 14 people were killed in Aleppo citys eastern Tariq al-Bab district.
Another 15 people, including a woman and a child, were killed in four air strikes on the nearby town of Al-Bab and the Tadef area, the Britain-based Observatory said.
Video posted online by Syrian activists showed chaos at the scene of the Tariq al-Bab raids, with dozens of people picking through the rubble of a partly collapsed building and ambulance sirens sounding.
Residents could be seen throwing buckets of water on a charred car still in flames. Elsewhere, the Observatory said rebel groups including the al-Qaeda-affiliated Al-Nusra Front had seized control of the key Omar oilfield in Deir Ezzor province in the east.
"Fighters from Al-Nusra and other groups have taken the Omar oilfield in Deir Ezzor province after clashes overnight," Observatory director Rami Abdel Rahman told AFP.
He said government troops had withdrawn from the oilfield, one of Syrias largest. The Observatory said the regime loss meant it no longer controls any of Syria's eastern oilfields. The army lost the Omar facility for the first time in November 2012, but later recaptured it.Video posted online by opposition activists showed fighters milling around an entrance to the oilfield, as others drove a tank said to have been captured from regime forces. Speaking to the camera, one activist said fighters had seized seven tanks.
The opposition took its first oilfield last year. Since then, groups operating in rebel-held territory have begun producing oil for sale on the black market. International sanctions against Syria have sharply reduced its oil exports, and the raging conflict has made even production for domestic consumption increasingly difficult.
The News