Hard Bargaining in Geneva on Iran Nuclear Deal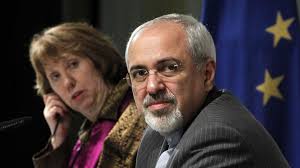 A senior Iranian official raised doubt Saturday whether an agreement to curb Iran's nuclear program could be finalized during current talks in Geneva after a day of intense diplomacy joined by U.S. Secretary of State John Kerry and five other foreign ministers.
Iranian Deputy Foreign Minister Abbas Araghchi told Iran's Fars news agency that the bargaining was primarily over the wording of a draft six-month agreement that would offer Iran limited relief from economic sanctions in return for curbs on its nuclear program.
But Araghchi also said it was unclear whether the differences could be ironed out Saturday — the fourth day of what was supposed to have been two days of talks.
U.S. officials insisted Kerry would stick by plans to leave Sunday for talks in London. That raised the possibility that another session may have to be scheduled.
The goal is to hammer out an agreement to freeze Iran's nuclear program for six months while offering the Iranians limited relief from crippling economic sanctions. If the interim deal holds, the parties would negotiate final-stage agreements to ensure Iran does not build nuclear weapons.
Only then would the most crippling sanctions on Iranian oil sales and financial transactions be rolled back.
The talks have been difficult not only because of the complex issues but also deep misgivings on each side about dealing with the other.
The Iranians, mindful of opposition to any restrictions among hard-liners back home, have insisted on retaining the right to produce nuclear fuel by enriching uranium, saying they need it to produce electricity and for scientific research.
They also are holding out for maximum relief from sanctions hurting their economy, while the United States and its allies want to relax sanctions in small, incremental steps. Even those have not set well with Israel or some members of Congress.
Talks on Saturday appear to have included ways Iran could retain some level of enrichment, albeit at a level far below what's need for weapons. Other roadblocks were believed to include the level of sanctions relief and the future of a plutonium reactor under construction at Arak that the six want closed. Plutonium can also be used to make weapons.
Kerry and his counterparts from Russia, Britain, France, China and Germany joined the Geneva talks after Iranian Foreign Minister Mohammad Javad Zarif and top European Union diplomat Catherine Ashton reported progress on enrichment and other issues Friday.
Their participation raised speculation that an agreement was close — an interpretation that the foreign ministers themselves sought to discourage.
British Foreign Secretary William Hague spoke of "very difficult negotiations," over issues that blocked agreement at the last round earlier this month.
"We're not here because things are necessarily finished," Hague told reporters. "We're here because they're difficult, and they remain difficult."
Among the key stumbling blocks, uranium enrichment is especially sensitive. Iran insists it has no interest in nuclear weapons but needs to enrichment to generate electricity and for scientific and medical purposes.
Washington and its allies are skeptical because of Tehran's earlier efforts to hide enrichment. Israel, which is not a party to the talks, opposes allowing any Iranian enrichment capability.
Iran has suggested it could curb its highest-known level of enrichment — at 20 percent. But critics worry that Iran could ramp up to weapons grade enrichment quickly if the 20 percent threshold is allowed to remain.
The U.S. administration has not confirmed details of what concessions on economic sanctions it might offer. But a member of Congress and legislative aides have said the White House was considering releasing about $6 billion to $10 billion in Iranian funds frozen in foreign banks.
Iran would also be allowed to sell petrochemicals and be supplied with auto parts to revive its car industry and exports of automobiles to parts of Asia. The aides and the member of Congress demanded anonymity because they weren't authorized to divulge the estimate publicly.
A senior U.S. official told reporters last week that Iran is losing $5 billion a month in lost oil sales alone and $120 billion in total from all sanctions since their imposition, although he did not give a time frame. The official demanded anonymity in keeping with rules established by the U.S. administration.
The U.S. administration is keen to keep rollbacks limited to placate influential members of U.S. Congress who argue that pressure has brought Iran to the negotiating table and cannot be relaxed until Tehran offers significant concessions
At the same time, Iranian hard-liners are suspicious of talk of nuclear compromise since moderate President Hassan Rouhani took office in September, fearing his team will give not get enough in terms of sanctions relief over the six-months of any first-stage agreement.
France's concern that the negotiators were rushing into a flawed deal with Iran helped delay an agreement during a session nearly two weeks ago.
Zarif appeared to allude to the toughening of demands after France's intervention. Iran's Mehr news agency quoted him as saying that back then, "the two sides had agreement on issues but now it has reached a stage that there are various viewpoints and it is somehow difficult."
ABC/AP