Shiites killed 7 Sunnis near Pakistan's capital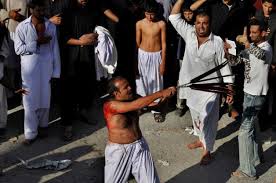 Shiite Muslims staging a religious procession near Pakistan's capital Friday killed seven Sunnis from an Islamic seminary for insulting them as they passed, officials said.
Thirty-two other people were wounded in the clash in the city of Rawalpindi, which is located next to the capital, Islamabad, hospital official Mohammad Qasim said. Thirteen of the injured had gunshot wounds, Qasim said.
The Shiites dragged the Sunnis out of the seminary after hearing the shouted insults and killed them, police officer Afzal Hussain said. They also set dozens of shops outside the seminary on fire, he said.
Police tried to stop the clash, but officers were wounded as the two sides threw stones at each other, Hussain said. An army unit based in Rawalpindi eventually reached the scene and took control.
The Shiites were observing Ashoura, which commemorates the seventh century death of the Prophet Muhammad's grandson. The schism between Sunnis and Shiites dates back to that time. The holiday has been marred by violence in Pakistan in past years, including bombings targeting Shiite processions.
Radical Sunnis have stepped up attacks against Shiites in Pakistan in recent years, sparking criticism from the minority sect that the government wasn't doing enough to protect them. Radical Sunnis consider Shiites to be heretics.
USA Today/AP