Lebanon president in Saudi for talks with King Abdullah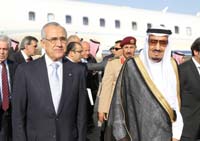 Lebanese President Michel Suleiman headed on Monday to Saudi Arabia to meet with King Abdallah Bin Abdel Aziz and other top officials.
The discussions with the Saudi officials will tackle bilateral ties, as well as the recent developments on the regional arena, Suleiman's press office said.
Saudi envoy to lebanon Ali Assiri praised the Lebanese president on Sunday describing him as the "protector of the Constitution and the custodian of dialogue which aims at finding solutions that please everyone and reinforce Lebanon's stability and sovereignty."
In his interview with Ash-Arq al-Awsat Assiri said of Suleiman's Monday visit to Riyadh :"it will be an occasion to reiterate support for the Baabda Declaration which entails distancing Lebanon particularly from the crisis in Syria."
Assiri added:"Suleiman's visit is of utmost importance given the deep-rooted brotherly ties between the countries and the people and in terms of discussions that will be held with the custodian of the two Mosques, King Abdallah Bin Abdel-Aziz, on issues of mutual interest."
Former Prime Minister Saad Hariri attended the meeting between President Suleiman and the Saudi King in Riyadh, Naharnet reported on Monday adding that the king's brother Crown Prince Salman bin Abdul Aziz met with President Suleiman upon his arrival in Riyadh
MTV reported that president Suleiman and prince Salman discussed bilateral ties, the regional situation, and Syrian refugees in Lebanon.