Berri rejects dumping Syrian chemical weapons in Lebanon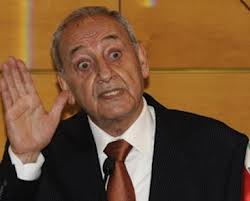 Speaker Nabih Berri told Al-Akhbar newspaper in remarks published on Wednesday that he rejects the possibility that Syrian chemical weapons could be buried in Lebanese territory, NOW reported on Wednesday
"I will not accept this, and I am ready to wage a war in order to prevent the dumbing of chemical weapons in our land," Berri said
However Caretaker Environment Minister Nazem al-Khoury dismissed the media reports about the possibility that Syrian chemical weapons will be dumped in Lebanon
"Reports that chemical waste and weapons entered Lebanon turned out to be unfounded, and Lebanon rejects such thing," Khoury was quoted as saying .
Hezbollah's Al-Manar TV quoted on October 28 sources of Lebanese officials as saying that there are international attempts to dump Syria's chemicals in Lebanon.
Reports surfaced in August and September that the Syrian regime transferred some of its chemical weapons to Hezbollah in Lebanon. But Berri's ally Hezbollah leader Hassan Nasrallah denied on September 23 that his group received chemical weapons from Syria.
Also U.N. Special Coordinator for Lebanon Derek Plumbly denied on Tuesday the possibility that Syria's chemicals will be dumped in Lebanon.
"the U.N. is not aware of any such plans." he said.
The issue reportedly surfaced after Norway rejected the international request to utilize its territories to dispose of Syria's chemicals.
During the chaos of Lebanon's civil war ( 1975-1990), the country became a dumping ground for toxic waste. Foreign companies paid off Lebanese militia leaders for permission to illegally dispose of many kinds of industrial chemicals from European nations, especially Italy and Germany. Italy alone reportedly dumped at one time 16,000 barrels of toxic waste in Lebanon. Some of these toxic wastes have been returned to the nations that produced them, but not all toxins have been cleaned up. Today, Lebanon is paying the price. According to a World Bank study, toxic dumping, along with Lebanon's own sewage and toxic waste problems, has led to contamination of 70% of the country's drinking water.
Geneva II
Commenting on the upcoming Geneva II conference Berri said that Caretaker Foreign Minister Adnan Mansour would represent Lebanon at the Syria talks.
"The conference is for foreign ministers, and if another official, such as the premier, wanted to participate in it, Mansour should accompany him to the conference and will be representing Lebanon. Those who reject this can simply stay here," Berri said.
But Emad Wakim, a key member of the Lebanese Forces said yesterday : "If Mansour goes to Geneva he will be representing Hezbollah and not Lebanon".
Many politicians have on several occasions described Mansour, who represents Berri in the cabinet as being "a Syrian Foreign Minister"