Charbel hails Hariri's role in freeing the pilgrims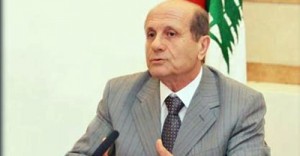 Lebanon Caretaker Interior Minister Marwan Charbel hailed the role of former Lebanese PM and Future Movement leader MP Saad Hariri in the release of the Lebanese Shiite pilgrims that were held hostage in Syria.
"Hariri played an important role in their release and he was adamant that they should not be mistreated," Charbel said in an interview with OTV on Tuesday evening.
Following the abduction of the pilgrims in May 2012 Hariri sent his own private plane to Turkey to negotiate their release and bring them safely to Lebanon, but the rebels refused to free them at that time.
The interior minister also said that the two Syrian bishops who had been abducted by an extremist group were "in good health."
He added that they were located in a suburb of Aleppo and that the ongoing fighting in the area is hampering efforts to secure their release.
The nine Lebanese pilgrims arrived in Beirut on Saturday after being freed in an exchange that also saw the release of two Turkish Airlines pilots who were seized in Lebanon in August.
The Shiite pilgrims were kidnapped as they headed home overland in May 2012 after visiting holy sites in Iran, with rebels charging that they belonged to Lebanese Shiite movement Hezbollah, which backs the Syrian regime of president Bashar al Assad .
Turkish Airlines Pilot Murat Akpinar and co-pilot Murat Agca were abducted outside the airport in Beirut by a group calling itself Zuwwar Imam al-Rida, which demanded Turkey use its influence with Syrian rebels to secure the release of the nine Shiites.
Eleven Shiite men were abducted by rebel fighters in northern Syria in May 2012 as they were returning from a pilgrimage to a Shiite sacred site in Iran along with female relatives.
Two men were subsequently freed and the nine others returned home last weekend thanks to a deal mediated by Qatar and Turkey, which also led to the freedom of two Turkish pilots who had been seized in Beirut in August in a tit-for-tat abduction.
Greek Orthodox archbishop Paul Yazigi and Syriac Orthodox archbishop Yohanna Ibrahim were seized near the northern commercial and industrial hub of Aleppo, which is contested by rebels and forces loyal to President Bashar al-Assad.
An armed group calling itself the "Chechen group " was reportedly behind the kidnapping of the two Aleppo archbishop that were kidnapped in the outskirts of the city last April. Some reports linked the group to the suspects in the Boston , MASS bombing.