Lebanon parliament re-elects its committee members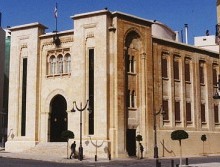 The Lebanese parliament convened on Tuesday and re-elected the same parliament's bureau committee members and the parliamentary committees members.
The parliament session was headed by Speaker Nabih Berri and attended by caretaker Prime Minister Najib Mikati, as well as most of Lebanon's MPs.
Each committee will convene at a later date to elect its own chief.
The fate of the legislative session to follow scheduled for Wednesday remains unclear, as boycotting parties firmly stand their ground.
Berri has called for a two-day legislative session starting Wednesday to discuss an agenda of 45 items. The very same session has failed to convene several times since July for lack of quorum.
MPs from the Future bloc, other March 14 lawmakers, caretaker Prime Minister Najib Mikati and MPs from Michel Aoun's Change and Reform parliamentary bloc have all boycotted the sessions.
Discussions over the session reportedly reached a dead-end on Tuesday amid a sharp row over its constitutionality as Future parliamentary bloc insisted on boycotting it if Speaker Nabih Berri failed to modify its agenda. Head of Future Movement Parliamentary bloc Fouad Siniora told reporters after talks with Berri, on the sidelines of a session set to elect the parliament's bureau committee members and the parliamentary committees members, that Wednesday's session is "unconstitutional."