Plane crash in Belgium killed all 11 parachutists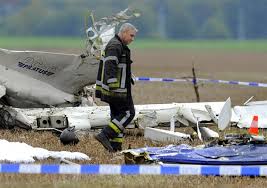 A plane crash in Belgium killed all 11 passengers on Saturday, the country's Prime Minister has confirmed.
The passengers were on a skydiving trip when the plane plunged 20 minutes after take-off from a small airfield close to Namur, 35 miles south-east of Brussels.
According to Jean-Claude Nihoul, mayor of nearby Fernelmont , witnesses described the plane as losing height very suddenly and quickly, before crashing in a field in the town.
Speaking to the Associated Press news agency, Nihoul said the ten skydivers and a pilot "were not able to jump out."
No one was hurt on the ground, and three parachutes were found near the crash site, he said.
Prime Minister Elio Di Rupo confirmed the news of the crash and said his thoughts were with the families of the victims.
Independent