A top Syria commander killed during fighting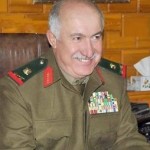 A Syrian general viewed as one of the nation's top military commanders was killed in fighting in the eastern part of the country, the government and opposition activists said Thursday.
The official news agency said that Maj. Gen. Jameh Jameh died while "fulfilling national duties of defending Syria" in the eastern province of Dair Alzour , long heavily contested by pro-government and rebel forces. The state media provided no other details.
Jameh's killing came as Syria's deputy prime minister, Qadri Jamil, said in Moscow that plans were proceeding for peace talks known as Geneva II to be held Nov. 22-23. But there was no confirmation from opposition representatives or from the Russian and U.S. governments, sponsors of the stalled peace process. Moscow, Washington and the United Nations have been pushing for the Geneva talks, calling them the only hope of ending the Syrian civil war.
According to the Syrian Observatory for Human Rights, a British-based pro-opposition monitoring group, Jameh was shot dead by a sniper during clashes in Dair Alzour between government and rebel forces, including the Al Qaeda-linked Al Nusra Front. The observatory identified Jameh as the head of military intelligence in Dair Alzour. Battles have been raging in the city of Dair Alzour for three days, the observatory said.
Insurgents have grabbed large swaths of land throughout Syria's vast eastern desert expanses, overrunning towns, oil fields and other territories. Al Qaeda-linked militants from neighboring Iraq are reported to have joined the rebel forces battling government troops in the area.
Jameh was said to have been a powerful figure in Lebanon in the later stages of Syria's almost three-decade occupation of the neighboring nation. Syrian troops pulled out of Lebanon in 2005 amid outrage about the truck bombing assassination of former Lebanese Prime Minister Rafik Hariri. The Syrian general was reportedly among those suspected of involvement in Hariri's slaying, though Syria has long denied any role in the assassination.
Many high-ranking Syrian officers have been killed during the nation's civil war, now in its third year. Photographs of fallen army officers, along with conscripts and civilians killed, can be seen on memorial walls in loyalist strongholds of Syria, especially in coastal Tartus and Latakia provinces, home to many top Syrian security officials.
The most notorious targeting of high-ranking Syrian officials came in July 2012. According to official and opposition accounts, a bomb detonated during a meeting at the national security headquarters in Damascus, the capital, killing four top generals, including the defense minister. Gen. Asef Shawkat, deputy defense minister and brother-in-law of President Bashar Assad, was among those killed.
LA Times