Syrian Refugees claim they were shot at off Libya port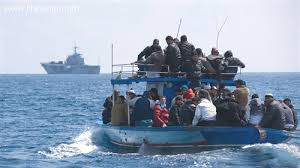 Migrants who were rescued after their smugglers' boat capsized in the Mediterranean say they were shot at as they left a Libyan port, making plain that perilous seas are not the only dangers refugees face when they flee their homes for Europe.
A Syrian man who would not give his name told a small group of reporters that the boat they were on was chased by another as soon as it left Libya and that "shots were fired" toward them. He did not want to be identified for fear of reprisals against family members still in Syria.
The UN Refugee Agency says three were injured in the shooting, citing migrant accounts.
The rickety boat packed with as many as 400 migrants by some survivor accounts -mostly people fleeing civil war in Syria – capsized 105km south of the Italian island of Lampedusa on Friday. At least 34 died, while 202 survivors were taken to Malta and Sicily. Search operations continued Sunday.
It was not clear who was behind the shooting. But the account highlights that refugees fleeing war and repression in Africa and the Middle East face many dangers even before they hit the open waters of the Mediterranean, where hundreds have died in a string of shipwrecks over the last 10 days.
Many make their way by land to Libya where they pay smugglers to ferry them to Europe's nearest shores – Lampedusa or the island nation of Malta. Libya has been riven by turmoil and has been struggling with militias since the ouster of dictator Moammar Gadhafi.
Another survivor, Emd Hassan, told The Sunday Times of Malta that he paid US$1,000 for the boat trip from Zwara, Libya, but said refugees who left from Egypt paid as much as US$3,000 to US$4,000.
The 38-year-old Damascus University graduate said he could not travel via normal routes because he has no travel documents and could not get any due to the conflict in Syria. "I had no alternative," the paper quoted him as saying.
The boat left Zwara at midnight and, apart from the early shooting incident, experienced smooth sailing until the weather conditions changed and the vessel started taking on water, capsizing at 4pm Friday, according to Hassan.
"It was horrible. I had three children with me and I could not see them, even though they were right beside me," he said.
On Sunday, Malta's prime minister, Joseph Muscat, made an unannounced visit in Tripoli to discuss the refugee flow with Libya's prime minister, Ali Zidan.
The prime minister's office said the leaders stressed the importance of better cooperation between Europe and Libya, but the statement did not identify any concrete proposals.
"Smugglers have gained long experience," Zidan told reporters in the capital Tripoli, but "we are determined to solve illegal immigration and we have asked the European Union to train and help supply us with equipment."
Muscat said there were conflicting reports about the shooting, but he pledged an investigation. `'Some people say the naval forces and others say militias," he said.
The UN High Commissioner for Refugees Antonio Guterres called for an investigation into the shooting incident to bring the perpetrators to justice. He also expressed concern that Syrians fleeing conflict have sought to reach Europe by such a perilous route, calling it "inhumane."
"They escaped bullets and bombs only to perish before they could ever claim asylum," he said.
The tragedy came just eight days after at least 365 people, mostly Eritreans, died when their boat sank within sight of Lampedusa, in one of the worst verified migrant sea tragedies in the Mediterranean. A ferry with 150 caskets of the victims arrived in Sicily on Sunday.
Despite the dangers, the boats keep coming. Authorities have rescued hundreds more at sea this weekend.
Italian Prime Minister Letta has announced that Italy will reinforce its naval and aircraft presence along the most-travelled corridors this week.
"The operation is needed in order to guarantee that the Mediterranean Sea could became a safer sea, especially where the Mediterranean Sea has become a graveyard these days," Letta said this weekend.
AP