prisoner's relatives hurl grenade to prevent his hanging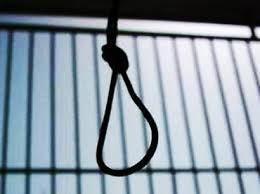 As the Iranian regime's authorities in the central prison in the city of Ilam were preparing to hang a prisoner on Monday a grenade was hurled at the prison gate by his relatives to prevent the execution, State-run Fars News Agency reported.
"During the carrying out of a death sentence, family members of a convict launched a grenade attack in Ilam central prison which led to the injuries," Fars news agency quoted the western province's police chief, Colonel Ali Dolati, as saying.
Dolati said that prison staff were among the injured.
According to the report the State Security Forces arrested those involved in the attack and the hanging then went ahead of the prisoner, who had been convicted of murder.
Iran put to death more than 500 people last year, according to Human Rights Watch.
It ranked second only to China in the number of people it executed, drawing criticism from the United Nations and human rights groups.
Tehran says the death penalty is essential to maintain law and order, and that it is applied only after exhaustive judicial proceedings.
Murder, rape, armed robbery, drug trafficking and adultery are among the crimes punishable by death in Iran.
Agencies