Survivors of the asylum seeking boat will return to Lebanon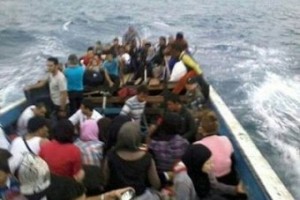 The head of the Lebanese delegation in Indonesia, Caretaker Minister Ahmed Karami told LBCI that the 18 Lebanese survivors of the Indonesian asylum seeking boat that capsized last Friday will fly to Beirut from Jakarta Saturday night.
Earlier today MTV reported that the Lebanese delegation in Jakarta was informed that six Lebanese that were held in Indonesia will be released.
The delegation which arrived in Jakarta on Thursday is charged with identifying the bodies of the drowned victims, securing their transfer to Lebanon, and dealing with the diplomatic procedures necessary to allow the survivors to legally return to Beirut, according to An Nahar daily.
"We thank the cabinet of Indonesia for everything it is doing to ease the transfer of the victims' bodies to Lebanon, and for helping in dealing with pending legal matters related to the survivors," Karami said yesterday.
Lebanese Charge d'Affaires in Indonesia Joanna Qazzi announced that around 42 bodies were retrieved from the sea.
"The bodies belong to 18 men, 5 boys, 14 women and 6 girls," she detailed, adding that DNA samples taken from the victims' families will be used to identify them.
Qazzi called on the Lebanese migrants, who violated their residency permits in Indonesia, to "benefit from this chance to return to their homeland at the expense of Lebanon's cabinet, who is also going to cover their due fines."
Led by Karami, the Lebanese delegation includes International forensic adviser and DNA expert Dr. Fouad Ayoub, High Relief Commission chief Brig. Gen. Ibrahim Bashir, and a number of officials from the Foreign Ministry, a representative of the General Security, and DNA specialists.
The boat, which was estimated to be carrying up to 120 Middle Eastern illegal immigrants, capsized last Friday off Indonesia's main island of Java. It was headed for Australia's Christmas Island.
Twenty-eight people survived the ordeal
The Lebanese foreign ministry revealed last Sunday 68 Lebanese were on board the ill-fated vessel and that 18 survived the ordeal while at least 28 were still missing.
Survivors of the incident told journalists last Tuesday that they sent their GPS coordinates to Australian rescuers to assist them — but no one came to their aid.
One survivor told ABC News he had lost his whole family because Australian rescuers did not come when they phoned a day before the sinking.
"We called the Australian Government for 24 hours, they were telling us 'we're coming, we're coming, we're coming,' and they didn't come," he said.
"We sent them the position on the GPS, exactly where we are, and we drowned and nobody came.
"This is because of the Australian Government. I want them to know that." He said.
Australian Immigration Minister Scott Morrison urged the Lebanese people not to come to Australia by boat and not to use the Syrian conflict as a cover to come to Australia .
There are reports people smugglers are offering fake Syrian passports in Lebanon to encourage economic migrants to come to Australia.