Netanyahu to Obama: Tighten sanctions if Iran defies West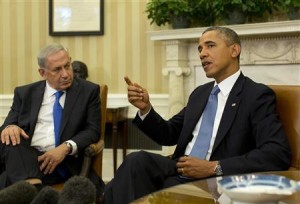 Israeli Prime Minister Benjamin Netanyahu urged U.S. President Barack Obama on Monday to step up sanctions on Iran if it pursues its nuclear drive even as it exchanges overtures with Washington and restarts negotiations with the West.
Seeking to reassure Israel about the emerging U.S. diplomatic engagement with Iran, Obama said Tehran must prove its sincerity with actions, insisted that Washington would not ease sanctions prematurely and reaffirmed U.S. readiness to resort to military action if all else fails.
Netanyahu visited the White House just three days after Obama and new Iranian President Hassan Rouhani spoke by telephone in the highest-level contact between the countries in more than three decades. The call fueled hopes for a resolution of Iran's decade-old nuclear standoff with the West.
Signs of U.S.-Iranian rapprochement have rattled Israel, which accuses Iran of trying to buy time and get out from under tough international sanctions while it seeks to develop nuclear weapons. Iran denies it is working toward an atomic bomb.
Netanyahu, whose aides had said he would tell Obama in private not to trust Rouhani's charm offensive, signaled grudging acquiescence to Obama's outreach to Iran. But he appeared to demand that Tehran offer immediate concessions by suspending sensitive nuclear projects or else face even greater international pressure.
"It is Israel's firm belief that if Iran continues to advance its nuclear program during negotiations, the sanctions should be strengthened," Netanyahu said as he sat side by side with Obama.
Obama said he was entering negotiations with Iran "clear-eyed" and was ready to test Rouhani's overtures. But he said: "Anything we do will require the highest standards of verification in order for us to provide the sort of sanctions relief that I think they are looking for."
He stopped short, however, of agreeing to Netanyahu's new call for tighter sanctions if Iran continues work on nuclear weapons. Existing international sanctions have done serious damage to Iran's economy, including its oil sector.
Even as Netanyahu called for a "credible military threat" to pressure Iran to comply, Obama insisted: "We take no options off the table, including military options, in terms of making sure that we do not have nuclear weapons in Iran."
Israel has threatened unilateral strikes on Iran's nuclear sites but appears unlikely to go ahead any time soon as Washington, its chief ally, tests the diplomatic waters. Israel is believed to be the Middle East's only nuclear-armed power.
Though Obama and Netanyahu have had strained relations in the past, they showed no signs of tension in their latest Oval Office encounter. They appeared relatively comfortable with one another, each following the other's words carefully and occasionally exchanging smiles.
"SPOILING THE PARTY"
Before Monday's White House talks, a Netanyahu aide said he did not care that he was perceived as "spoiling the party," referring to the optimism stirred up in Washington over ending decades of estrangement between the United States and Iran.
Netanyahu wants the Obama administration to demand specific steps by Iran, including shutting down its uranium enrichment and plutonium projects and shipping out their fissile material.
The Obama administration has been vague on what concessions it wants from Iran. Obama did not specify what would constitute verification of Iran's actions, but he may have been referring to steps that would give the U.N. nuclear agency wider inspection powers to ensure that Iran is not hiding nuclear activities.
Despite any differences behind closed doors, Obama and Netanyahu sought publicly to stress common ground on Iran.
The Israeli leader went out of his way to praise Obama for applying economic and military pressure that he said had brought Iran to the table. "I appreciate deeply that you have made clear that you remain committed to this goal (of preventing Iran from getting nuclear weapons)," Netanyahu said.
Netanyahu, who said before his visit that he was coming to debunk Rouhani's "sweet talk," will deliver a speech on Tuesday at the United Nations, where he will hammer home his skepticism.
Signaling Netanyahu's aim to counter Rouhani's public relations blitz with one of his own, aides said the U.S.-educated Israeli leader would extend his visit by a day to conduct a series of media interviews.
Though Obama has focused on Iran outreach in recent days, his attention has been divided by the looming threat of a U.S. government shutdown just after midnight on Monday if a stalemate with congressional Republicans is not resolved.
HISTORY OF STRAINED TIES
Obama and Netanyahu have a history of difficult encounters, including a blowup in the Oval Office in 2011 when Netanyahu famously lectured the president on Jewish history.
Having secured a second term, Obama visited Israel in March, where he eased the rift with Netanyahu and offered reassurances that he was determined to deny Iran the means to make an atomic bomb.
But different clocks tick for the two allies. While they agree that Tehran could make its first nuclear device in months if it were intent on doing so, Israel warned last week this gap could shrink to weeks due to new Iranian uranium centrifuges.
Israel would prefer that the U.S. superpower take the military lead against Iran if diplomacy fails. Yet Israelis watched worriedly as Obama stumbled in his bid to muster domestic support for attacking Syria as reprisal for Damascus's suspected use of chemical weapons on August 21.
In the meantime, Obama's engagement with Iran could be limited by the influence of the pro-Israel lobby in Washington and lawmakers who share Netanyahu's suspicion of Rouhani, a moderate cleric who took office in August and was the center of attention at the United Nations last week. Netanyahu was due to meet supporters on Capitol Hill on Monday.
Further complicating matters is Obama's reinvigorated push for a peace deal between Israel and the Palestinians in talks that restarted earlier this year. Though Middle East diplomacy was overshadowed by Iran in Monday's meeting, Obama thanked Netanyahu for entering into "good faith" negotiations but said there was limited time to reach an accord.