Obama, Rouhani in historic phone call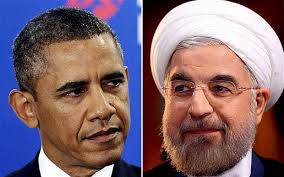 The presidents of America and Iran spoke directly Friday for the first time since 1979, setting the stage for delicate negotiations that could reshape the two adversaries' relationship.
The 15-minute call between Barack Obama and Iran's Hasan Rouhani, which focused on Iran's disputed nuclear program, topped a week of dramatic twists and turns. It also highlighted how critical Washington and Tehran have become to each other's pressing geopolitical goals.
For Mr. Rouhani, the opening of discussions with the U.S. lays bare how badly Iran wants relief from American-led economic sanctions. For Mr. Obama, Iran sits at the confluence of thorny foreign-policy issues on which he has staked his final years in office, which also include Syria's civil war and the Israeli/Palestinian peace process.
"The very fact that this was the first communication between an American and Iranian president since 1979 underscores the deep mistrust between our countries, but it also indicates the prospect of moving beyond that difficult history," Mr. Obama told reporters at the White House shortly after the phone call Friday afternoon.
The phone call, which the White House said Mr. Rouhani initiated, came just days after Mr. Rouhani declined Mr. Obama's invitation to meet in person while both were in New York for the United Nations General Assembly. But it also followed a series of indications from the newly elected Iranian president that he wanted to alter his country's relationship with the U.S.
Mr. Obama said he and Mr. Rouhani directed their governments to work quickly to reach an agreement over Iran's nuclear program.
Mr. Rouhani on Friday said his foreign minister, Mohammad Javad Zarif, will bring a specific plan to address the West's concerns that Iran is secretly developing nuclear weapons, which Iran denies.
In mid-October, Iran, the U.S. and other world powers will meet in Geneva to try to put in place a concrete diplomatic path to resolve the dispute within one year. Mr. Obama said Iran has the right to a peaceful nuclear-energy program.
He noted that both sides would have to overcome "significant concerns" to reach an agreement, including Israeli skepticism about Iran's sincerity.
A senior administration official said Mr. Obama opened the call by congratulating Mr. Rouhani on his election. The official said Iran's nuclear program dominated the call, and it ended with Mr. Rouhani saying goodbye in English and Mr. Obama saying goodbye in Farsi.
The U.S. outreach to Iran is fraught with risk and is unlikely to be smooth. In one indication, U.S. officials said Iran hacked unclassified Navy computers in recent weeks in an escalation of alleged Iranian cyberintrusions that target the U.S. military. Officials said the attacks were carried out by hackers working directly for Iran's government or by a group acting with the approval of Iranian leaders.
Israeli Prime Minister Benjamin Netanyahu has publicly cast doubt on Iran's recent charm offensive, arguing that Tehran is hoodwinking Washington as it pushes ahead with its nuclear program.
Mr. Obama is meeting Mr. Netanyahu on Monday in Washington. U.S. officials said Mr. Obama is expected to say that the U.S. will make decisions based on changes in Iran's actions, not rhetoric, and that the administration is pursuing a diplomatic track in parallel with the U.S. strategy of sanctions backed with a threat of force.
"Israel is interested in a diplomatic solution, like anyone else. But we don't want to cheat ourselves," said Israel's Minister of Intelligence and International Affairs, Yuval Steinitz, in an interview Thursday. "Some people are willing to be cheated."
The pace of U.S. outreach to Iran has unnerved many of Washington's closest Mideast allies beyond Israel, including Saudi Arabia and the United Arab Emirates. They fear Washington's engagement could remove the financial squeeze on Tehran while letting it continue to develop its nuclear program.
Some nuclear experts who advised Mr. Obama said they have seen little evidence Mr. Rouhani is willing to drastically cut nuclear capabilities to seal a deal.
Rep. Ed Royce (R., Calif.), chairman of the House Foreign Affairs Committee, didn't directly criticize the outreach but called for even stronger sanctions, saying: "We must increase the economic pressure until Iran stops its nuclear drive."
Mr. Obama outlined at the U.N. an agenda focused on curtailing Iran's nuclear program, dismantling Syria's chemical weapons and cinching an Arab-Israeli peace agreement. He will need support from Iran's president to achieve lasting success at any of those. Iran is the biggest backer of Syrian President Bashar al-Assad and has developed militant movements in Lebanon, Syria and the Palestinian territories that could upend the Mideast peace process.
Mr. Rouhani campaigned for the presidency on a platform of revitalizing Iran's economy, in part by rolling back the sanctions. This week, he courted businessmen as well as diplomats. Inside Iran, his outreach to the West has been greeted largely with enthusiasm. Iranian newspapers, including conservative outlets, played up Mr. Rouhani's speeches and interviews in New York as a positive turning point. U.S. and Iranian officials now see a stepped-up series of engagements in the coming months, after more than three decades with virtually no diplomatic contact following the 1979 Iranian revolution.
Messrs. Rohani and Zarif repeatedly stated this week they are committed to a political solution in Syria, even as Tehran continues to finance and arm the Assad regime.
Mr. Obama's aides prepared for the General Assembly by laying fresh groundwork on the Mideast peace process and making overtures to Iran. White House officials began privately signaling a potential presidential-level meeting at least two weeks ago.
The White House offered a carefully framed message that the U.S. sought to engage Iran with "mutual respect," signaling it was taking Mr. Rouhani seriously.
A senior U.S. official said Mr. Rouhani's delegation communicated early Friday his desire to talk with Mr. Obama before leaving New York Friday evening. The official said the Iranians appeared encouraged to take this step following Secretary of State John Kerry's 30-minute meeting Thursday night with his Iranian counterpart, Mr. Zarif.
Senior U.S. officials said they were struck by the change of tone when Messrs. Kerry and Zarif met.
"I have gotten to know Iranians…and I can't say we had chatty conversations," said a senior U.S. official who met the Iranian delegation Thursday. "That has all changed."
Iranians divided over call
While many Iranians are welcoming the historic phone conversation between President Barack Obama and his Iranian counterpart Hassan Rouhani, some hard-liners are accusing their leader of selling out.
Alaeddin Boroujerdi, who heads Parliament's foreign policy and national security committee, was quoted by media Saturday as saying that the 15-minute telephone talk the day before showed Iran's "might." But the hardline rajanews.com news website said there was no justification for Rouhani to talk to the "Great Satan," its term for the United States, and that the conversation was "useless."
The Friday phone conversation was a step toward ending more than three decades of estrangement. The two presidents pledged to resolve concerns about Iran's nuclear ambitions, which have isolated Iranians from the global community and led to crippling economic sanctions.
Iranian press reaction
Iranian newspapers Saturday hailed the first contact between presidents Hasan Rouhani and Barack Obama but warned that opponents like arch-foe Israel would seek to torpedo the historic opening to Washington.
"It's the end of a 35-year taboo," trumpeted reformist daily Arman, referring to the rupture of diplomatic relations following the hostage-taking at the US embassy in the wake of the 1979 Islamic revolution.
"The world caught unawares," it crowed.
"International media in shock over the telephone call," it said, referring to the timing of the call as Rouhani headed to the airport after a visit to the United Nations where the media focus had been on the lack of a historic meeting.
The Etemad newspaper carried a photomontage of Rouhani and Obama side by side. "Historic contact on way home," read a banner headline taking up the whole front page.
But in an opinion piece international relations professor Mohammad Ali Bassiri warned that rapprochement between Tehran and Washington would face huge resistance both from Israel and from domestic opponents.
"These contacts and meetings between Iran and the United States have extremist opponents and both sides must be very careful," Bassiri wrote.
Several newspapers carried the reaction of former president Akbar Hashemi Rafsanjani, widely seen as Rouhani's mentor, who hailed the incumbent's decision to speak to, but not meet, his US counterpart.
"Rouhani's success in New York is the mark of the divine victory," Rafsanjani said.
"The fact that Obama asked our president to meet him but the latter said it's too early and we must prepare the ground is the very triumph that God promised us," he added.
A number of newspapers also carried the response of the commander of the Qods Force of the elite Revolutionary Guards, the covert operations unit at the center of US allegations of Iranian sponsorship of terrorism in the region.
"The respect shown by the world to President Rouhani is the fruit of the nation's resistance," General Qassem Soleimani said.
WSJ/AP/ AFP