33 killed in a car bomb near Shi'ite mosque in Baghdad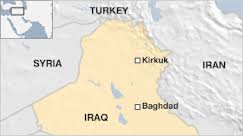 A car bomb has exploded near a Shia place of worship in the Iraqi capital Baghdad, Reuters news agency says.
The blast on Wednesday killed at least 33 people and wounded at least 55, Al Jazeera has learned.
The apparent sectarian attack took place in Baghdad's northwestern Kasra district.
It was not immediately clear who had carried out the attack, Reuters news agency said, but Sunni Muslim groups have been regaining momentum and striking on a near daily basis this year.
About 800 Iraqis were killed in August, according to the UN, with more than a third of the deadly attacks
happening in Baghdad.
The bloodshed, 18 months after US troops withdrew from Iraq, has stirred concerns about a return to the sectarian
slaughter between 2006 and 2007, when the monthly death toll sometimes topped 3,000.