Iran warns a strike would trigger reactions beyond Syria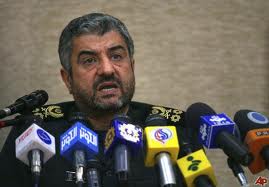 The head of Iran's elite Revolutionary Guards warned Saturday that a US strike on Syria would trigger reactions beyond the borders of Tehran's key regional ally, ISNA news agency reported.
"The fact that the Americans believe that military intervention will be limited to within Syrian borders is an illusion; it will provoke reactions beyond that country," commander Mohammad Ali Jafari was quoted as saying.
"Just as US interventions in the Islamic world [Afghanistan, Iraq] have bolstered extremism, so will an aggression on Syria reinforce extremism and, as in Iraq and Afghanistan, its results will be pain, massacre and the exodus of the innocent population," he added.
US President Barack Obama said on Friday the United States was weighing "limited, narrow" action against Syria, insisting the world had a duty to act after it concluded that the regime of President Bashar al-Assad's had gassed to death more than 1,400 people.
Syria's government has denied using chemical weapons and has pointed the finger at "terrorists" — its term for anti-Assad rebels.
A delegation of Iranian MPs left Saturday for Syria and Lebanon to examine the situation and "condemn the use of chemical weapons by terrorist groups," a parliamentary official said.
Iran, Damascus's main regional ally, has issued stern warnings against any US-led military action targeting Syria, with supreme leader Ayatollah Ali Khamenei saying it would be a "disaster" for the region.
On Friday, Foreign Minister Mohammad Javad Zarif spoke by telephone with UN special envoy for Syria Lakhdar Brahimi to "warn against any adventurism that will have serious consequences."
Iranian media reported that Zarif also called a dozen European and Arab foreign ministers to "condemn the use of chemical weapons" in Syria, to "criticize the war-mongering [of the US and its allies] and raise concern about the consequences of any military action in the region."
Jafari said participation by other countries in a strike on Syria "will trigger crises for the national security of those countries" and "transfer the crisis to the Zionist [Israel] regime".
On Thursday, the British parliament voted against participating in any military intervention and Germany has ruled out joining any strikes, leaving the United States looking for partners to strike Syria.
French President Francois Hollande has said he and Obama "agreed that the international community cannot tolerate the use of chemical weapons, that it should hold the Syrian regime accountable for it and send a strong message."
AFP