Iran threatens and Russia sends warships to Syria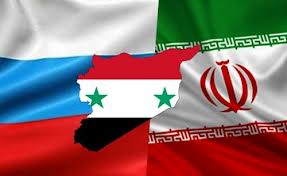 Iran and Russia are working together to prevent a Western military attack on Syria. Russia even sent warships to the Mediterranean where U.S. destroyers are in position to strike if ordered.
Analysts said Syria's allies' options to stop the United States or make it pay a price after a strike are limited.
"The Russians can help Syria politically and diplomatically in the United Nations and provide supplies, but they're not nearly as capable as they were at the end of the Cold War," said Chris Harmer, an analyst at the Institute for the Study of War who worked on military plans for the Persian Gulf as a commander in the Navy.
Although Iran may want to retaliate, it usually does so through the Lebanese Shiite terror group Hezbollah, which "is task-saturated between helping (Bashar) Assad stay in power and protecting (Shiite) neighborhoods in Beirut from retaliatory car bombs," Harmer said. "I don't think Iran can run the risk of retaliating on their own."
Other analysts such as Phillip Smyth, who documents Shiite militias fighting in Syria on the Jihadology website, said that although Syrian President Assad's forces and Hezbollah may be stretched thin in Syria and Lebanon, Iran's ability to retaliate should not be counted out.
In the 1980s, while Iran was fighting a major war with Iraq, it sent hundreds of members of its Revolutionary Guard Corps to southern Lebanon and built Hezbollah to counter Israel and the United States, Smyth said. Hezbollah's bombings of the U.S. Embassy and the U.S. Marine Corps barracks in Beirut killed 58 American diplomats and Lebanese citizens and 241 Marines in 1983.
Thursday, Iranian President Hassan Rouhani said in statements carried by several Iranian state-controlled media outlets that Iran and Russia would work in "extensive cooperation" to prevent any military action against Syria. Western military action against Syria would be an "open violation" of international laws, Rouhani said.
"Military action will bring great costs for the region," Rouhani said, and "it is necessary to apply all efforts to prevent it."
The warning was accompanied by threats from others.
Gen. Mohammad Ali Jafari, chief of Iran's powerful Revolutionary Guard, told the Tasnim news website, that an attack on Syria "means the immediate destruction of Israel."
Russian state-owned media reported Thursday that a Russian missile cruiser and a large anti-submarine vessel were sailing from the North Atlantic for the eastern Mediterranean Sea as tensions escalate in the region.
Harmer said the ships may resupply Assad's forces or evacuate more Russian citizens or Russian materiel from its navy base at the Syrian port of Tartous.
As far as taking on the U.S. Navy, "they're not built for that," Harmer said.
Iran and Syria have threatened to retaliate against Israel and other U.S. allies in the Middle East in the event of a U.S. attack on Syria. Both countries have rockets that can reach Israel and U.S. allies in the Persian Gulf. Iran's Revolutionary Guard Corps and Hezbollah have worldwide networks that can target countries that support the military strike.
President Obama said Thursday he has not made a decision on whether to launch what he called "a shot across the bow" that would send a message to Syria.
Iran's reaction would depend on the scale of any U.S. attack, and it may not react at all, says Karim Sadjapour at the Carnegie Endowment for International Peace, who has has high-level contacts in the Iranian regime.
"Iran talks about Syria in the same way the U.S. talks about Israel, (as) an indispensable regional ally whose national security is sacrosanct," Sadjapour said. "It's unclear whether Tehran would see it in their interests to go to war. Especially if a U.S. military attack is intended only to bruise, not end, the Assad regime."
Iran has provided Assad billions of dollars to prosecute his civil war, which the United Nations says has killed more than 100,000 Syrians, Sadjapour said.
Iran has sent militia members and its Revolutionary Guard Corps to fight alongside and in command of Syrian government troops, according to Smyth, who has documented the deaths of dozens of members of the corps in the Syrian fighting.
The last time Hezbollah launched a barrage of rockets against Israel, in 2006, it suffered a withering Israeli counterattack and ground invasion that left its rocket stores decimated, its villages in southern Lebanon badly damaged and its infrastructure in Beirut in shambles.
The last time Iran faced the United States directly was in the 1980s during the "Tanker War" in the Persian Gulf, when Iran and Iraq, at war with each other, targeted ships. The U.S. Navy, protecting U.S.-flagged ships in the Gulf, inflicted heavy damage on several Iranian patrol boats and other military ships without any damage to U.S. military vessels, Harmer said.
"The Iranians have experience with the United States. It hasn't gone well for them," he said. "They are not going to do so in reaction to a U.S. strike on Syria."
But Iran could respond through terrorism, Smyth said.
"It could be next year, and no one knows where an attack might be pulled off," he said.
USA Today