Assad's brother eyed in Syria chemical weapons strike,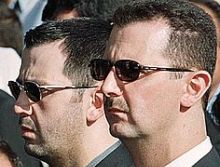 U.N. experts headed to Damascus Wednesday for a new tour of areas struck by a purported chemical weapons attack, which one official suspects may have been ordered by Syrian President Bashar Assad's brother.
A U.N. official who monitors armed conflicts in the region told Bloomberg News that Maher Assad, the leader of the regime's Republican Guard and the elite Syrian Army 4th Armored Division, is suspected of signing off on the attack that left hundreds dead last week.
Assad's regime, which sits on one of the world's largest stockpiles of chemical weapons, has denied that it was behind the attack, but U.S. Secretary of State John Kerry said Monday that there is "undeniable" evidence that chemical weapons were used in Syria.
The official asked not to be named, and said the attack may have been a brash action by Maher instead of a strategic strike by the president.
The Institute for the Study of War, a Washington-based research group, says Maher's 20,000-25,000 strong 4th Armored Division has been Assad's "indispensible elite unit" since the start of the 2011 uprising, according to Bloomberg News.
Meanwhile, a convoy of seven U.N. cars left the Four Seasons Hotel in Damascus Wednesday to conduct more field testing in the areas allegedly hit by the poison gas.
Before their departure, the experts looked at maps and were briefed by U.N. disarmament chief Angela Kane and team leader Ake Sellstrom.
The team did not speak to reporters.
U.N. chemical weapons experts conducted their first field testing in the western Damascus suburb of Moadamiyeh on Monday. They collected samples and testimony after a treacherous journey through government and rebel-held territory. Their convoy was hit by snipers, but members of the team were unharmed.
Three Syrian anti-regime activists, speaking on Skype, said Wednesday that the experts were headed to Eastern Ghouta, a large Damascus suburb affected by the alleged attack. They spoke on condition of anonymity for fear of regime retribution.
The activists said the experts had crossed into rebel-held territory and were being accompanied by members of the Free Syrian Army, the main armed opposition group.
The group Doctors Without Borders has said the strikes killed 355 people., but U.N.'s special envoy to Syria, Lakhdar Brahimi, said Wednesday that more than 1,000 might have been killed in the attack.
"With what has happened on the 21st of August last week, it does seem that some kind of substance was used that killed a lot of people: hundreds, definitely more than a hundred, some people say 300, some people say 600, maybe 1,000, maybe more than 1,000 people," he said. "This was of course unacceptable. This is outrageous. This confirms how dangerous the situation in Syria is and how important for the Syrians and the international community to really develop the political will to address this issue seriously, and look for a solution for it."
Brahimi did not say on what he based his information, but he did discuss the work of the U.N. team probing for evidence of the use of chemical weapons.
U.N. chief Ban Ki-moon has pleaded for more time to allow the U.N. team in Syria to establish the facts and to give diplomacy another chance to end the Syrian conflict, which has claimed more than 100,000 lives in two and a half years.
Ban said the team already has "gathered valuable samples and interviewed victims and witnesses," but needs four more days to conclude their investigation, according to Reuters.
Still, world powers appear to be moving toward a strike against the Assad regime, including by readying possible legal justifications.
The five permanent members of the U.N. Security Council are meeting informally to discuss the language of a draft resolution that would authorize the use of military force against Syria.
Britain put forth the proposal Wednesday. U.S. officials, including Vice President Joe Biden, have charged that President Bashar Assad's government used deadly chemical weapons near Damascus last week.
Any language that could be read as allowing a military strike is likely to face veto by Damascus allies Russia and China.
Two of Syria's staunchest backers, Iran and Syria, warned of dire consequences if the U.S. and its allies attack in Syria.
Such strikes "will lead to the long-term destabilization of the situation in the country and the region," said Russian Foreign Minister Sergey Lavrov.
Jordan also said Wednesday that it will not be used as a launching pad for attacks on Syria, as the kingdom favors a diplomatic solution to the crisis.
Brahimi said any military strike must have U.N. Security Council approval.
Fox News