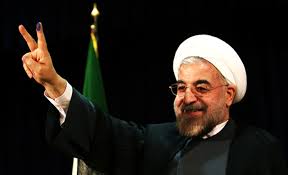 Iran plans to appoint a woman ambassador and a spokeswoman for the foreign ministry for the first time in the Islamic republic's history, Iranian media reports said on Tuesday.
Foreign minister Mohammad Javad Zarif "wants to employ women for two post: as spokesperson and to lead an embassy," current ministry spokesman Abbas Araqchi said, quoted in the media.
A final decision is expected "within a week," Araqchi said. President Hassan Rowhani, a moderate cleric whose all-male cabinet took power earlier this month, has reportedly asked the government to appoint women to high-level posts in the Islamic republic, which was founded in 1979.
Rowhani has already named two women: Elham Aminzadeh , who like himself holds a doctorate in law from the University of Glasgow, as vice president for parliamentary affairs, and Parvin Dadandish as his women's affairs advisor.
His predecessor as president, Mahmoud Ahmadinejad, secured approval from the conservative-dominated parliament to appoint Marzieh Vahid Dastjerdi as the republic's first-ever female minister.
Dastjerdi was sacked as health minister in late 2012 over disagreements with Ahmadinejad over price hikes for imported drugs.
Reformist former president Mohammad Khatami, in office from 1997 to 2005, appointed Massoumeh Ebtekar as vice president in charge of environmental protection.
AFP