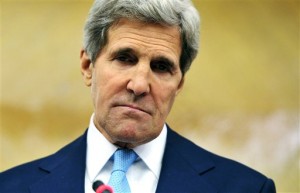 US Secretary of State John Kerry has condemned what he termed the "moral obscenity" of the Syrian government's use of chemical weapons against its own people.
He said footage of the alleged chemical weapons attack near Damascus was "real and compelling" and "undeniable".
He said President Barack Obama was considering a response.
It comes hours after UN chemical weapons inspectors came under attack near the Syrian capital.
The team was dispatched to five sites around Damascus where hundreds of people were reported to have been killed on Wednesday.
"What we saw in Syria last week should shock the conscience of the world. It defies any code of morality," Mr Kerry said in a televised statement on Monday.
The US administration had additional information about that attack that it would make public in the days ahead, he added.
He said the delay in allowing UN inspectors to the sites of the alleged chemical weapons attack were signs the Syrian government had something to hide.
"Attacking the area, shelling and systematically destroying evidence is not the behaviour of a government that has nothing to hide. The regime's belated decision to allow access is too late… to be credible," Mr Kerry said.
The Syrian government has denied launching any chemical attacks.
BBC