Clerics accuse Syria, allies of being behind Tripoli blasts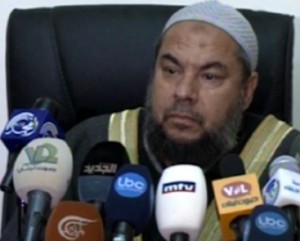 Tripoli Salafist cleric Sheikh Salem al-Rafei accused on Saturday the Syrian regime of carrying out the blasts that rocked Ruwais neighborhood in Beirut's southern suburbs and the northern city of Tripoli, pointing out that if the state can't protect the city then the residents will.
The explosions took place outside the Al-Taqwa Mosque in the city's Al-Zahiriya area and the Al-Salam Mosque in the Al-Mina neighborhood.
"We are the victims of the Syrian terrorism. We are not takfiris," al-Rafei told reports after a meeting for the Committee of Muslim Ulemas.
He lashed out at the government, saying: "if the government is incapable of acting responsible then it should leave."
Al-Rafei called on Hezbollah to stop helping the regime of Syrian president Bashar Assad and to withdraw from the neighboring country.
"Let us kick-start a new beginning," he urged Hezbollah chief Sayyed Hassan Nasrallah.
A statement issued after the committee's meeting called for the formation of organized popular committees to help control the security situation in the northern city of Tripoli.
"Hezbollah should withdraw from Syria immediately," the Ulemas added.
The Ulemas called on the security agencies to demolish the hotspots in the northern city that support the Assad regime and to detain those who are responsible for the blasts across the country.
"The army and security forces should defend citizens in Arsal and prevent Hezbollah militia from killing others," the statement pointed out.
Al-Rafei said that the state's security agencies are not protecting Tripoli.
"Either the state defends us or we will defend ourselves," he told reporters.
He revealed that a bulldozer removed all the evidence from the blasts sites, noting that he was informed by security agencies that he was targeted.
"They told me they can't protect me," the Salafist cleric said.
Similarly Tripoli Salafist Sheikh Daai al-Islam al-Shahal accused the Syrian regime "and its agents in Lebanon" of planning the attacks that killed at least 40 people on Friday in twin explosions in Sunni-dominated Tripoli.
He said that the bombings that targeted Sunni mosques in Tripoli necessitate the creation of self-security in the city.
"Tripoli is being targeted. What happened compels us to create local self-policing measures to circumvent chaos and any other possible terrorist attack," Shahal said in a statement on Saturday.
"We are also prepared to cooperate with the official security agencies." He stressed