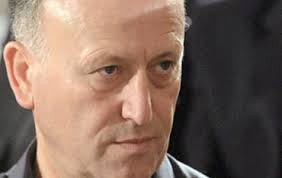 A prominent official in Tripoli revealed on Friday that the explosion that targeted the Al-Salam Mosque in Tripoli slightly injured former Internal Security Forces commander General Ashraf Rifi who was inside his house the moment the explosion occurred, NOW reported on Friday
"The explosion injured Rifi's bodyguard who was sitting right next to a window, which broke and fell on his head," the official told NOW.
The official also clarified that Rifi's house is situated in a street facing the Al-Salam Mosque.
Rifi was sitting next to his bodyguard, and his hand was slightly injured, the source explained.
He also said that Rifi's bodyguard is undergoing an operation in a hospital. However, he did not reveal the name of the hospital.
Two explosions rocked the northern Lebanese city of Tripoli on Friday afternoon, leaving at least 19 people dead.
The explosions reportedly took place outside the Al-Taqwa Mosque in the city's Al-Zahiriya area and the Al-Salam Mosque in the Al-Mina neighborhood.
Following the explosion Rifi told MTV : "We are in the heart of the storm…we either have to be up to this responsibility or the country will explode on all of us, and as long as the reasons are there the danger will remain so we have to know how to deal with this for very well known reasons".
Rifi added: It's too soon to tell if the explosion was caused by a bomb or a booby-trapped car, but stressed that there's an attempt to ethnically divide Lebanon.