Suleiman orders the Lebanese Army to respond to attacks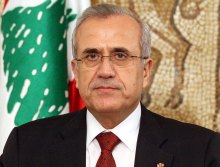 Lebanon President Michel Suleiman ordered the Lebanese Army Monday to respond to attacks, after 5 rockets landed Sunday in and around Hermel, a Hezbollah stronghold in the Beqaa region in Eastern Lebanon.
"Suleiman ordered the Lebanese Army to determine the location from where they were fired in order to tackle the situation with the appropriate means," a presidential statement said.
"Two rockets landed in the town of Hermel, in an area between the Mabarrat teaching association and the Masharii al-Qaa area, causing no casualties," security source said.
"Another three rockets landed on the outskirts of Hermel," the source added.
It was not immediately clear whether the rockets were launched from inside Lebanon or from across the border in strife-torn Syria, said the source, although National News Agency said they were fired from Syrian territory.
The president also criticized the firing of rockets from areas within Lebanon that recently struck near the presidential palace as well as in the Hezbollah-controlled southern suburbs of Beirut.
"Lebanon is surprised by acts of [violence] such as the firing of rockets in a clear attempt to stir up tension and move the Syrian conflict deep into Lebanon, something that will be confronted," Suleiman said according to the statement.
He stressed "Lebanon will confront such attempts and take all measures to protect stability and civil peace."
On August 1 , two 107 mm rockets were fired at the Baabda area .
One landed within the security perimeter of the Presidential Palace and the other within the security perimeter of the Army headquarters .
The attack came hours after President Suleiman gave a speech during the ceremony marking the 68 the Army Day in which he criticized Hezbollah's defense of the Syrian regime.
27 people were killed and at more than 300 others were injured when a bomb exploded last week in a Hezbollah stronghold in southern Beirut.
The bombing followed a statement from Hezbollah Secretary-General Hassan Nasrallah taking credit for an explosion that injured four Israeli troops along the southern border.