Suspect in Bir al-Abed car bomb arrested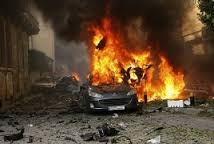 Caretaker Defense Minister Fayez Ghosn on Friday revealed that the Intelligence branch of the Internal Security Forces arrested a suspect in the July explosion that targeted Bir al-Abed neighborhood of Hezbollah's stronghold in the Dahieh .
"Intelligence forces arrested Syrian national Hussam Diab Ghanem who is also known as Abu Halaq who is suspected of being behind the explosion in Dahieh last July ," Ghosn said in a press conference.
He also said that another man was arrested for committing acts of terrorism.
"Hassan Hussein Rayed was arrested and admitted committing jointly with Ahmad al-Atrash and others – terrorist acts and bomb attacks," the caretaker defense minister added.
He also noted that the car that exploded in Bir al-Abed was a Kia that had been stolen from the town of Khaldeh, south of the capital Beirut.
Asked about the rockets that targeted Dahieh in May, Ghosn said that army intelligence has gathered strong evidence regarding the assailants behind them.
An unknown Syrian rebel group called a Liwa'a 313 Brigade claimed responsibility for the July 10 bomb attack which took place in a parking lot at a commercial and residential neighborhood of Bir al-Abed area the Dahieh suburb.
The group described itself as "an independent military formation that fights in Syria for the victory of God's word."
However the mainstream rebel Free Syrian Army condemned the attack in Beirut's mainly-Shiite southern suburbs, describing it as a "terrorist" act.