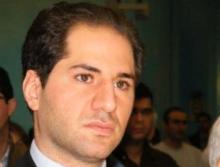 MP Sami Gemayel, a key member of the Phlanage Party parliamentary bloc slammed on Thursday Hezbollah MP Mohammed Raad's statements regarding the Baabda Declaration.
"Those who signed the Baabda Declaration then describe it merely as ink on paper consider that the Lebanese who are dying in Syria are only ink on paper," Gemayel said in a tweet, in reference to the Hezbollah fighters that have been killed in Syria while supporting the Syrian regime
Raad said on Wednesday that the Baabda Declaration which calls for Lebanon's neutrality with regards to the conflict in Syria was born dead.
"The Baabda Declaration was born dead, because the opponent party has sent all its weapons, gunmen and smugglers to intervene in Syria " Raad was quoted by the National News Agency as saying.
"What is left from the Baabda Declaration is only ink on paper," Raad who heads up Hezbollah's parliamentary bloc added.
Thousands of Hezbollah fighters are fighting alongside the forces loyal to president Bashar Al Assad against the mostly Sunni Syrian rebels who are seeking to overthrow the 40 year old regime.
Hundred of Hezbollah fighters that were killed in Syria were buried in Lebanon
The Baabda Declaration calls for disassociating Lebanon from the events in Syria war and other regional conflicts and was approved in a national dialogue session in June 2012, which Hezbollah representatives attended.