One killed in landmine in Arsal , east Lebanon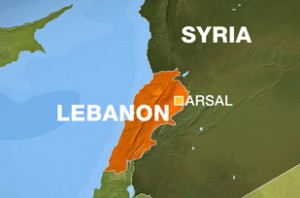 Lebanese citizen Khaled Mohsen al-Hujeiri, 68, was killed in a landmine explosion in the town of Arsal, in East Lebanon , near the Syrian border, National News Agency reported Tuesday evening.
NNA did not reveal whether the victim is related to Arsal mayor Ali Hujeiri , who survived an assassination attempt yesterday in the town of Labwe which lies between Arsal and Ras Baalbek.
Ahmad Khaled al-Hujeiri who was identified as the bodyguard of the mayor was killed in the Labwe ambush . Another person who was identified as Shehayeb al-Ahmad was also killed in the ambush.
A previously unknown group that identified itself as the group of 4 martyrs claimed responsibility for the ambush..
The Bekaa Valley region is religiously mixed. Some areas are controlled by the Shi'ite militant Hezbollah group which is helping President Bashar al-Assad crush the revolt. Other parts, like Arsal which is mostly Sunni provides a safe haven for majority-Sunni Syrian rebels.
The name of the previously unknown gang " 4 martyrs " that claimed responsibility for the ambush is reportedly related to an incident in June in which four of Labwe's residents were killed by Syrian rebel fighters.
The recapture of the Syrian border town of Qusair last June by Assad's forces, spearheaded by Hezbollah guerrillas, reportedly led to an influx of Syrian rebel fighters and civilians into Lebanon and more violence spilling over into the Bekaa region.