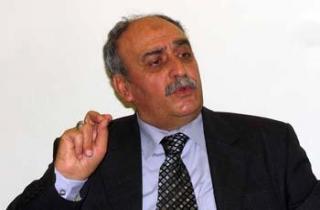 Hezbollah MP Kamel al-Rifai voiced his opposition to the possible extension of the term of President Michel Suleiman, despite the fact that the president has on several occasions pointed out that he is not interested in extending his term.
"The possibility of a power vacuum in the presidency would pose a danger to Lebanon, especially in the current circumstances. However , the extension of President Michel Suleiman's term is so far rejected by all parties," Rifai told Al-Fajr radio station, without naming the parties he has in mind
The Hezbollah MP also criticized the Centrist bloc that is headed by the president and includes Prime Minister designate Tammam Salam and Progressive Socialist Party leader MP Walid Jumblatt and said it "did not offer any concessions for the sake of the formation of a new cabinet."
He also reiterated Hezbollah's rejection of a neutral cabinet, and called for one that gathers all parties "and that disassociates itself from the events taking place in the region."
The PM-designate has been trying to form a cabinet based on giving a third share to the opposing political blocks – March 14 and March 8, and the centrists, but the Hezbollah led March 8 alliance is insisting on having a bigger share in the cabinet to allow it to veto its decisions . Salam has been opposed to give any party a veto power ( usually referred to as a blocking third ) . He has recently been floating the idea of forming a neutral cabinet of technocrats, but Hezbollah is opposed to this idea too as evident from Rifai's statement.
This is why Lebanon is still without a government and Najib Miqati is still acting as the caretaker Prime Minister.
Rifai's statement comes after came after Lebanese Forces leader Samir Geagea, a key figure of the March 14 alliance hinted on Sunday that the rocket attacks on the Baabda presidential area last Thursday came from a Hezbollah stronghold and accused the party of declaring war on the state of Lebanon,its people and institutions.
"The rocket attacks came the same day of the president's speech on Army Day. They were launched from areas that come under the military control of a certain party." Geagea said un reference to Hezbollah.
On Thursday, two rockets were fired at the Baabda area .
One landed within the security perimeter of the Presidential Palace and the other within the security perimeter of the Army headquarters .
The attack came hours after President Suleiman gave a speech during the ceremony marking the 68 the Army Day in which he criticized Hezbollah's defense of the Syrian regime