Cardinal Rai urges dialogue based on Suleiman's speech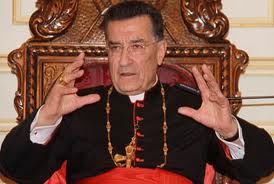 Lebanon's Maronite Patriarch Cardinal Beshara al-Rai urged on Monday the politicians to consider President Michel Suleiman's Army Day speech as the basis of reconciliation talks among Lebanese leaders.
"It's about time for political parties to sit at the table of frankness and reconciliation" and discuss the local situation, Cardinal Rai said in his sermon during a mass at his summer residence of Diman.
"The president's speech on Army Day should be on the agenda" of the all-party talks, he stressed.
Rai also said it was the duty of the Lebanese people "to urge politicians to find a solution to the political crisis."
Other Lebanese leaders praised Suleiman's speech
Lebanese Forces leader Samir Geagea told VOL on Sunday:
"For the first time in 25 years we feel that we have a president," Geagea said about Suleiman, who on his Army Day speech stressed that it was time for the state to become the sole-decision maker on the use of force.
Suleiman, who has been calling for national dialogue to discuss Lebanon's defense strategy , based on the Baabda declaration criticized in his speech Hezbollah's role in defending the Syrian regime.
"It has become urgent to study a defense strategy especially that the resistance's arms have gone beyond Lebanon's borders". Hezbollah is usually referred to as the resistance.
"The army's mission would be impossible if a party or more from Lebanese people get involved in wars outside Lebanon ", Suleiman stressed in another reference to the thousands of Hezbollah fighters who have been fighting alongside the forces loyal to Syrian president Bashar against the rebels seeking to end his family's four-decade rule.