Lebanon Judge rejects request to release Samaha on bail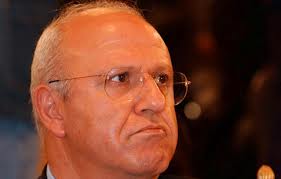 Lebanon Military Prosecutor Saqr Saqr rejected Wednesday the request to release on bail jailed former Information Minister Michel Samaha because of the serious nature of of his crime, according to local reports
Judge Saqr asked the military court to reject the request made by Samaha's defense lawyer Sakher Hashem and stressed that Samaha should remain in custody.
His trial has been postponed to December 3 because of the absence of his alleged co-conspirator Gen. Ali Mamlouk, a Syrian security chief, who is believed to be in Syria.
Military Investigative Judge Riad Abu Ghaida demanded last February the death penalty for Samaha, Mamlouk, and his aide Adnan( whose family name remains unknown and who holds the rank of colonel) over a terror plot to destabilize Lebanon.
The indictment charges the three men of holding a meeting under Mamlouk at the National Security office in the Syrian capital Damascus and plotting to assassinate Lebanese figures who are opposed to the Syrian regime .
According to the indictment, the Syrian officers handed Samaha explosives. It also charged Samaha of transporting the bombs in his car from Syria to Lebanon.
The former minister was also charged with summoning Lebanese police informer Milad Kfouri, handing him the explosives and ordering him to blow up Iftar gatherings in Lebanon.
"It's all right: kill them," Samaha was quoted as telling the police informer when the latter informed him that religious figures would be attending the Iftar dinners, according to the indictment.
Samaha and his co-conspirators could face the death penalty if convicted.
On August 9, 2012, Lebanese security forces arrested former Lebanese minister Samaha, who has close ties with Syria's regime.
According to Lebanese security sources, when asked why he would do such a thing, the former minister replied, "This is what Bashar wants." In a possible reference to the embattled Syrian president Bashar al Assad.
Judge Abu Ghaida issued an arrest warrant last February for Mamlouk and Adnan and sent Syria a formal notification of the warrant and charges but has not received any response so far .
In the event of a non-response, Lebanese law allows for the trial against Samaha to proceed with Mamlouk being tried in absentia.
Following the discovery last August of the explosives that were transported from Syria Samaha , Lebanese president Michel Suleiman congratulated the Internal Security forces and announced that he is waiting for a phone call from President Assad about Mamlouk's alleged participation in the terrorist plot, but the call never came.