No Parliament meeting for third time due to lack of quorum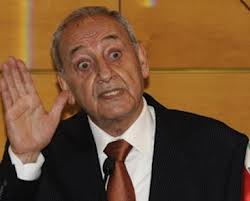 For the third time in a row Lebanon Speaker Nabih Berri adjourned the parliament session due to lack of quorum after most blocs boycotted it and postponed the 3 day session until till August 20 and 21, but kept the same controversial agenda.
The controversial agenda includes the extension of the term of army chief General Jean Kahwaji in addition to another 45 draft laws
FPM leader MP Michel Aoun did not want to attend because he is opposed to the extension of Kahwaji term , which is the only urgent item on the agenda , while the March 14 blocs boycotted the session because they wanted to limit the discussion the extension of Kahwaji's term . Kahwaji's term ends in September when he turns 60.
Aoun proposed on June 30 appointing his son-in-law General Chamel Roukoz who is currently the commander of Lebanese Commando Regiment ( Maghaweer) as the new army chief.
"Due to the lack of quorum, Speaker Nabih Berri has postponed the plenary session scheduled for today till 10:30 a.m. on Tuesday, August 20, and Wednesday, August 21 in order to discuss the items on the agenda and ratify them," National News Agency quoted the parliament's head of media Mohammad Ballout as saying on Monday.
The parliament was was also set to discuss today the examinations for Electricité du Liban contract workers seeking to become full-time employees.
March 14 blocs are insisting on having a new cabinet before a parliament session is held to discuss items that are not urgent.
PM Designate Tammam Salam has been trying to form a cabinet of 24 ministers ( 8 each for the centrists, March 14 and March 8 blocs) for several months but the Hezbollah-led March 8 group is insisting on having a veto power in the cabinet. For this reason the country remains without a cabinet.
Bypassing the parliament
In a move aimed at bypassing the parliament over the decision to extend Kahwaji's term , a meeting of the higher defense council was held today. The conferees were reportedly briefed on a recommendation by Caretaker Defense Minister Fayez Ghosn for the extension of Kahwaji's term after President Michel Suleiman and PM Najib Mikati approved it during talks they held ahead of the council meeting at the Baabda palace.
According to the reports the delay in Kahwaji's retirement by one year was made through a decree in accordance to articles 55 and 56 of the defense law.
The alleged move was taken to avoid a vacuum in the army leadership after the parliament failed on Monday for the third consecutive time to vote on the extension over lack of quorum caused by the boycott of several blocs.
According to the reports , another meeting was held after the Higher Defense Council meeting ended at Baabda palace between Suleiman, Mikati and Ghosn and this time Kahwaji was invited to attend.