Geagea brands Hezbollah's call for dialogue as 'crazy idea'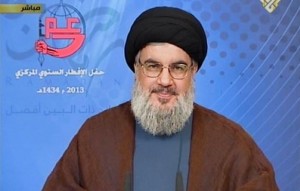 Hezbollah chief claimed on Friday on TV via video link that his party is ready to participate in any National Dialogue session aimed at exploring a national defense strategy designed to face Israel's threats to Lebanon .
Hezbollah Secretary General Hassan Nasrallah, who made the statement during the annual iftar banquet hosted by the Resistance Support Committee in Beirut's southern suburbs also warned against attempts to splinter the Lebanese Army along sectarian lines, saying the military was the only guarantee left to preserve the country and its state.
"We are always ready to attend National Dialogue or any dialogue to discuss a national defense strategy before the formation of a Cabinet or after its formation," Nasrallah said.
He added : "We are ready to discuss a defense strategy … This country is for all of us. There is a serious national need in Lebanon to draw up a national defense strategy," he said.
He added that during the last National Dialogue session in September 2012 attended by March 8 and March 14 leaders in Baabda, Hezbollah presented a blueprint for a national defense strategy, but claimed that the "other side" (March 14 leaders) did not seriously discuss it because their main aim was to for Hezbollah to hand over its weapons to the Lebanese Army.
Nasrallah's remarks came three days after President Michel Suleiman said he planned to reconvene the stalled National Dialogue between the March 8 and March 14 leaders in order to reassert commitment to the "Baabda Declaration" amid deep national divisions over the bloody conflict in Syria.
During a National Dialogue session he chaired in Baabda last September , Suleiman proposed a national defense strategy that would allow Hezbollah to keep its arms but place them under the command of the Lebanese Army, which would have exclusive authority to use force.
Under the proposal, Hezbollah would not hand over its weapons to the Army, as demanded by the March 14 coalition, at the same Hezbollah defense 's plan which is based on coordinating its war and and peace decisions with the Army will also be dropped.
Amid fears of strife as a result of the repercussions of the war in neighboring Syria, Nasrallah called on the Lebanese to be "extremely vigilant"against attempts to destabilize the country, stressing the need to preserve the Lebanese Army as the only guarantee for national survival.
"I call on the Lebanese to be extremely vigilant in light of the current sharp divisions in the country," he said.
"Vigilance is required from everyone and in all regions. Internal security is the responsibility of the state. We should be vigilant during this difficult period," Nasrallah said.
Referring to criticism by some March 14 politicians against the military, Nasrallah warned that if the Army broke up or was paralyzed, there would be no state, peace or stability in the country.
"Therefore, we need this Army. In its absence, there will be no state and no country," he stressed.
Nasrallah slammed March 14 calls to exclude Hezbollah from the next government, saying the policy of isolation would lead nowhere.
"We are against the theory [of isolation and exclusion]. We are receptive to discussions and we can agree on some issues, while we can neutralize divisive ones," he said. "Despite rivalry between us and the other side, we extend our hands for discussion and meeting together."
Hezbollah has led military offensives alongside the Syrian Army against the Syrian rebel groups and maintains a large armed presence in Syria to aid its President Bashar Assad.
Crazy idea
Lebanese Forces leader Samir Geagea, a key member of the March 14 alliance decried Hezbollah's call for dialogue
He said a statement on Saturday that Hezbollah chief Sayyed Hasan Nasrallah was is in no position to call for National Dialogue as along as his party is deeply involved in the Syrian conflict.
"Sayyed Nasrallah is calling for dialogue, while less than a year after the agreement on the Baabda Declaration… Hezbollah fighters are taking part in battles across Syria," he said.
"It would be a crazy idea to repeat such a Dialogue experience," added Geagea.
The LF leader explained that Hezbollah did not abide to the Baabda Declaration although the party signed and approved the agreement among Lebanon rivals to keep the country away from violence in the region, mainly the war in Syria.
Suleiman's response
Lebanese President Michel Suleiman on Saturday called for distancing Lebanon from the ongoing conflict in neighboring Syria.
"We must distance our country from regional conflicts which is the growing repercussions of the Syrian crisis," Suleiman said during a graduation ceremony on Saturday.
The president also reiterated his call for "the resumption of national dialogue in order to find the most appropriate ways to guarantee Lebanon's best interest and manage its affairs."