EU closer to declaring Hezbollah a terrorist entity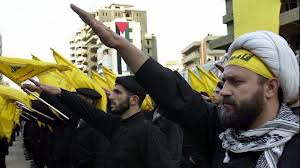 Brussels—A senior European Union official says the EU is moving closer to declare the military wing of the Lebanese party Hezbollah a terrorist organization and could take a decision as soon as Monday.
Friday's comments by the official, who spoke on condition of anonymity because of the sensitivity of the issue, highlighted a steady change of heart within the EU. It has long been held back by fears such a move would destabilize Lebanon and its neighbors.
The EU foreign ministers looked into the issue earlier this year but could now reach a decision at their monthly meeting on Monday if the last few countries with reservations could be swayed, theofficial said. Putting an organization on the terrorist blacklist needs unanimity among the 28 member nations.
Meanwhile, the European Union has published new guidelines explicitly banning any EU funding of Israeli institutions operating in territories occupied since the 1967 Mideast war, amid vigorous Israeli objections.
The EU holds that Jewish settlements in territories such as the West Bank and east Jerusalem are illegal. The Palestinians want some of those territories for their hoped-for state.
After EU officials announced plans this week for the new guidelines, Israeli Prime Minister Benjamin Netanyahu spoke with several European leaders to express his opposition.
EU foreign policy chief Catherine Ashton said the document released Friday "is meant to clarify the EU's position" and is not meant to harm efforts toward Mideast peace. The new rules come into force Jan. 1. Very little EU funding currently goes to Israeli bodies in occupied territories.
AP