Vatican to make John Paul II a saint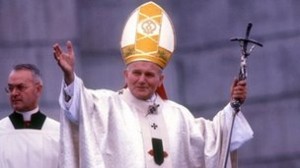 The Vatican says Pope John Paul II is to become a saint.
Pope Francis cleared the way for his canonisation, expected later this year, after a second miracle was attributed to the late pontiff's intervention.
The Polish-born pope led the Roman Catholic Church from 1978 until his death in 2005.
Pope Francis also approved the sainthood of Pope John XXIII (1958-1963), though no second miracle has been attributed to his intervention.
A precise date for the canonisations will be set by a meeting of cardinals, the Vatican said.
The announcement came on the same day that Pope Francis issued his first letter to the faithful, or encyclical. Pope Francis acknowledged that the first draft of the document was written by his predecessor, Pope Benedict XVI.
The two popes appeared together at a Vatican ceremony on Friday, for the unveiling of a statue.
'Inexplicable recovery'
John Paul II has been on a fast-track to sainthood since his death. Just six years later he was beatified by Benedict.
Canonisation, the final step in declaring a deceased person a saint, requires a further miracle to be attributed to prayers to the candidate after they have been beatified.
An "inexplicable recovery" on the very day of John Paul II's beatification has been assessed as a miracle by the Vatican's saint-making department, the Congregation for the Causes of Saints, and Pope Francis has now approved that decision.
A Costa Rican woman reportedly recovered from a serious brain illness, and the Congregation concluded that the only explanation for her recovery was the fact that her family had prayed for the late pope's intercession.
John Paul's first miracle was the apparent curing of a 49-year-old French nun, Sister Marie Simon-Pierre Normand. She had been diagnosed with Parkinson's Disease, the same malady which afflicted the pope himself in his later years.
Sister Marie claims that she and her fellow nuns prayed for the intercession of John Paul after his death. Her sudden cure had no logical medical explanation and she later resumed her work as a maternity nurse, the Vatican says.
Scandal
Although widely regarded as one of the great popes of modern times, John Paul's 26-year pontificate was tarnished by his handling of the clerical sex abuse scandal that has rocked the global Church.
Critics say some of the Church's other deep-seated problems – such as its dysfunctional management and financial scandals at the Vatican bank – stem from shortcomings of his reign.
John Paul II streamlined the path to sainthood, and himself created more saints than all previous popes combined.
The process by which the Catholic Church declares someone a saint can only happen after their death, and involves taking evidence about the individual's holiness, scrutinising their deeds and writings, and gathering testimony that others are drawn to holiness and prayer by the individual's example.
The canonisation ceremonies for the two late popes will take place by the end of the year, a Vatican spokesman says, and are likely to attract large crowds to Rome. Hundreds of thousands of people gathered in St Peter's Square to mark John Paul's beatification.
Many believers are likely to travel from John Paul's homeland, Poland, where he still enjoys widespread respect as a moral authority and for his role as an inspiration in overcoming Communist rule.
The head of the Polish episcopate, Archbishop Jozef Michalik, said those who observed John Paul II's life already regarded him as a saint.
'The Good Pope'
Pope John XXIII reigned from 1958 until 1963 and was known as "Good Pope John" because of his kindly demeanour.
He was beatified by John Paul II in 2000, and Pope Francis took the unusual step of waiving the requirement of a second miracle in his case.
Pope John, born Angelo Roncalli, convened the Second Vatican Council but died before it was completed.
Vatican II, as it became known, led to significant changes in Church doctrine and opened the way for Mass to be conducted in worshippers' own languages, rather than solely in Latin.
Pope Francis described John XXIII as a "model of holiness" when he marked the 50th anniversary of his death with a visit to his grave last month, according to the Catholic Herald.
Parallels have been drawn between the two popes, and Francis has praised his predecessor's "interior freedom," "exterior joy" and "the effectiveness of his pastoral and diplomatic action".
BBC